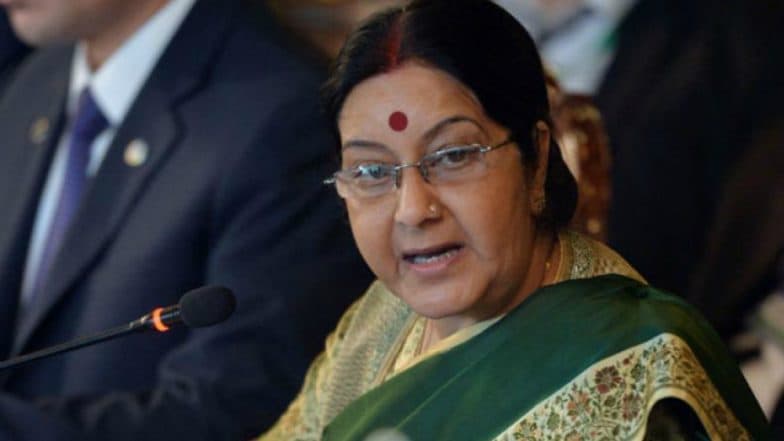 New Delhi, April 19: External Affairs Minister Sushma Swaraj on Friday issued an appeal to the families and friends of over 500 Indians working in Tripoli, asking them to reach out to their kin in war-torn Libya and ask them to return to India at the earliest. The Ministry's message comes amid the death of at least 213 people in Libya since the crisis intensified earlier this month.
Sushma, in a statement on Twitter, said the flights between Tripoli and New Delhi are still operational but may soon cease to function. If they fail to immediately take steps for leaving the nation, the government may not be able to evacuate them later, the Foreign Minister warned. Libya Death Toll Rises to 213 as Tripoli Fighting Continues: WHO.
Sushma Swaraj's Tweet:
Even after massive evacuation from Libya and the travel ban, there are over 500 Indian nationals in Tripoli. The situation in Tripoli is deteriorating fast. Presently, flights are operational. /1 PL RT

— Chowkidar Sushma Swaraj (@SushmaSwaraj) April 19, 2019
Pls ask your relatives and friends to leave Tripoli immediately. We will not be able to evacuate them later. /2 Pls RT

— Chowkidar Sushma Swaraj (@SushmaSwaraj) April 19, 2019
Libya is facing war-like situation, ever since the country's armed forces loyal to strongman Khalifa Haftar launched an open coup against the Government of National Accord (GNA), supported by the international coalition which dethroned dictator Muammar Gaddafi in 2011.
The conflict, which has reached the capital Tripoli as well, has killed over 200 people and left more than 900 wounded, the World Health Organisation said Thursday.
According to the International Organisation for Migration, nearly 25,000 have been displaced due to the air raids and full-blown military battle between the government forces and the military loyal to Haftar. The United has initiated efforts to relocate the refugees to neighbouring Niger.