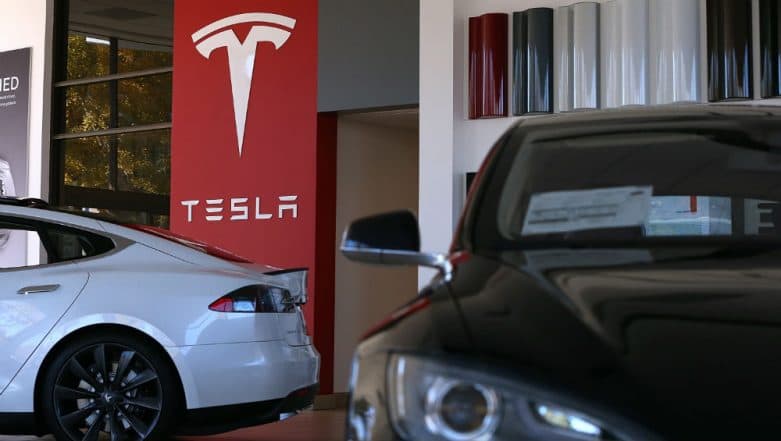 Tesla recalled over 1,23,000 Model S car due to a snag in the vehicle's steering component. The decision led to an adverse impact on the Elon Musk-led company's positioning in the stock market as it's shares plunged by nearly 4 percent in after-hours trade on Thursday.
In an emailed statement, Tesla clarified that the issue is confined to Model S vehicles. The Model X and Model 3 cars will not be recalled, it said.
Explaining the reason behind recalling the unprecedented number of cars, Tesla said it has seen "excessive corrosion" in the power steering bolts, which makes driving difficult at low speed.
Although the snag is alarming enough to revoke the cars, Tesla said the situation is not critical. Even if the bolts fail, the car could be kept under control using "excessive force", the carmaker said.
Tesla claims the inconvenience would be felt by drivers only in cold climatic region, where road salts are commonly used. However, it has decided to recall all vehicles irrespective of the climate conditions where the car-owner is based.
Here is the full response issued by Tesla:
In order to ensure your safety, Tesla will proactively retrofit a power steering component in all Model S vehicles built before April 2016. (No other Tesla vehicles are affected.) There have been no injuries or accidents due to this component, despite accumulating more than a billion miles of driving.
To be clear, this recall does not apply to any Model X or Model 3 vehicles, only to Model S vehicles built before April 2016.
We have observed excessive corrosion in the power steering bolts, though only in very cold climates, particularly those that frequently use calcium or magnesium road salts, rather than sodium chloride (table salt). Nonetheless, Tesla plans to replace all early Model S power steering bolts in all climates worldwide to account for the possibility that the vehicle may later be used in a highly corrosive environment.
If the bolts fail, the driver is still able to steer the car, but increased force is required due to loss or reduction of power assist. This primarily makes the car harder to drive at low speeds and for parallel parking, but does not materially affect control at high speed, where only small steering wheel force is needed.
Our records show that you own a Model S affected by this voluntary recall. At this time there is no immediate action you need to take and you may continue to drive your Model S. Tesla will contact you to schedule an appointment when parts are available in your region. The retrofit will typically take around an hour.
Thank you for being a Tesla customer, and we apologize for this inconvenience. If you have any questions, please contact us by phone at 844-248-3752 or by email at ServiceHelpNA@tesla.com.
Tesla, despite facing criticism from industry experts over a slew of reasons, is considered to be among the most-well poised automobile maker in the contemporary scenario. The company has a plan to increase its market capitalization to $650 billion within a decade.