Walmart, the US retail giant, has recently, entered the Indian e-commerce space, by buying a majority, 77 percent stake in homegrown e-comm brand Flipkart for $16 billion. This is a great strategy by the brand to enter the Indian market and compete with Amazon, which continues to be at a dominant spot in the e-comm category.
The company has come a long way since its inception. In fact, Sam Walton, the founder of Walmart at the age of 44, opened the first Walmart in Rogers, Arkansas. At that point in time, Sam's competitors thought that the idea of building a business, around offering lower prices would never work. However, he proved everyone wrong, and gradually the Walmart stores kept on increasing. He died in 1992, but the legacy continues to live.
Let's take a look at how the company has kept on evolving on the logo, keeping in tune with the aims and aspirations of the company. According to the information available on the Walmart corporate site, the logo has been changed six times till now since 1962.
Here is the timeline
1962-1964

Reportedly, Walmart launched without a proper logo, and for the first two years, whenever the name appeared in print, the font and the style were chosen according to the whims, and fancies of the printer.
1964-1981

In 1964, the 'Frontier Font Logo" was the first official and most consistently used logo, that survived for more than 20 years.
1968 - 1981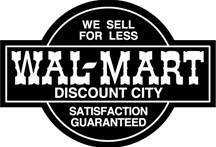 During the same time, another logo was launched by Walmart- the Discount City mark. It appeared in print advertising and in-store signage, as well as on employee uniforms and dresses. But, it was never used on exterior building signage or in annual reports.
1981-1992

The Frontier Font Logo was finally dropped in 1981, to infuse a freshness to the logo that was being used for 20 years.
1992-2008

The hyphen from the logo was replaced with a star in 1992.
2008- Current

In 2008, the company underwent the most significant change till date, where it introduced not only a new font, but also an iconic spark.
(Information used from Walmart's official website)