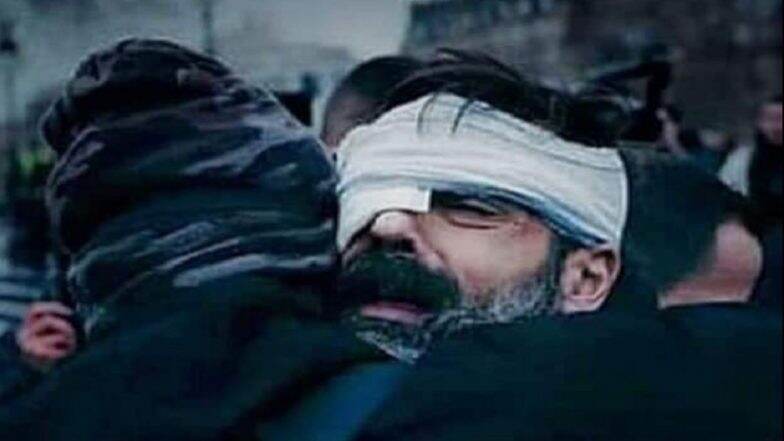 Toronto, January 27: As the yellow vest protests are in their 11th week, one of the leaders of the movement, Jérôme Rodrigues was injured over the weekend in a police crackdown on protesters. Rodrigues was reportedly hit by a rubber bullet launcher used by the French police to disperse protesters. His lawyer says the injury has maimed the protest leader for life.
However, the police are insisting that the prominent protest leader's injuries were caused by a crowd-control grenade that exploded near him, but Rodrigues' lawyer has "categorically" denied this version of explanation.
Rodrigues, speaking to a French television channel from the hospital, said he was hit multiple times during Saturday's protests. "Everything happened very quickly. They threw a grenade at me and I took a [rubber] bullet. I was attacked twice – a grenade to the foot and the bullet," he said. He accused police of carrying out "all the violence the rules permit". "I'm going to take legal action against Mr Macron, Mr Castaner and against the police officer who shot at me … I remain firmly pacifist whatever happens."
The recent wave of protests by the French wearing Yellow vests have been targeted by police as protesters have become violent and attacked public property – including historical monuments, cars and shop fronts. The French police have been accused of using controversial crowd dispersal weapons like flash-balls, "sting-ball" which is a crowd dispersal grenade and tear gas canisters. At least 80 people have reported injuries due to flash-balls which release a large number of rubber bullets.
Meanwhile an anti-yellow vest march was organised over the weekend by people wearing red-scarves. The marchers, chanted "en a rien cassé" (we've not smashed anything) as they carried French and European Union flags. They said they were demonstrating against the recent violence at the various gilets jaunes (yellow vest) protests, including attacks on politicians and journalists.
The gilets jaunes or yellow vest protests began in November 2018 in protest over a proposed environment tax on fuel, but has since grown to include a wider set of grievances against Macron's administration which the protesters feel is a government for the rich.