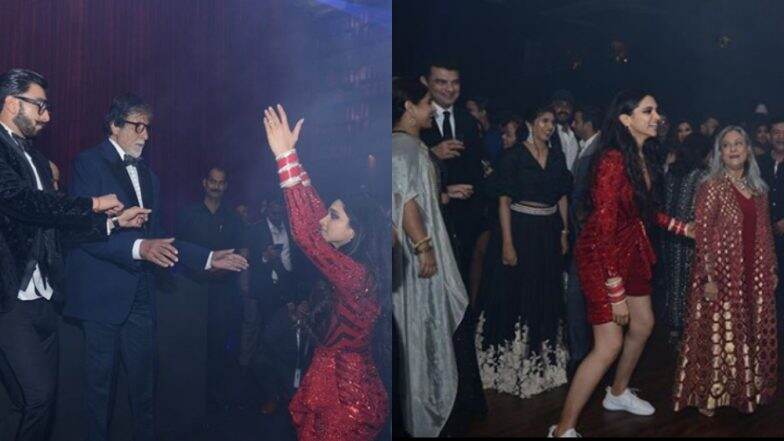 Yes, we are still talking about Deepika Padukone and Ranveer Singh's wedding. Well, so is Amitabh Bachchan, so you can't really complain. Big B had a gala time at the wedding reception of Bollywood's beloved couple. Because why else would he take to his Instagram page to share pictures from the party. In one of the pictures, we can see him dancing with Ranveer while Deepika claps on. The caption reveals that Ranveer and Amitabh are dancing to the tunes of latter's superhit song Jumma Chumma De De from Hum. Ranveer Singh Teases Wife Deepika Padukone At Wedding Party, Says She Is Looking like Frida Kahlo on Acid – Watch Video.
Amitabh also ended up sharing some deets of the party while sharing the pictures. In another post, you can see the guests divided in the team of two - men VS women - Amitabh, Ranveer VS Jaya Bachchan, Deepika. Big B wrote in the caption, "It's the girls vs the boys at Deepika-Ranveer wedding bash .. and the girls are winning.. the reactions of Vidya and Hubby and Arshad are proof [sic]"
Ranveer and Amitabh dancing on Jumma Chumma De De
Ranveer and Big B gracefully accpeting defeat
View this post on Instagram
Do not forget to check out this cool video of Ranveer and Amitabh dancing together
Stay tuned to Latestly for more updates on the DeepVeer wedding and their reception.