Abhishek Bachchan and Aishwarya Rai took off to the Maldives, earlier this week, to celebrate their 12th wedding anniversary. Both are not social media butterflies, so it is tough to score their pictures online. But, as the clock gets ready to strike 12, Abhishek took to his Instagram page and shared a beautiful picture of Aishwarya. It seems like the gorgeous couple is enjoying a moonlit dinner by the sea. What a dreamy dinner date to ring in the anniversary. Aish and Abhi are definitely giving travel goals to lots of couples. The actress is wearing a blue dress and has her hair tied up. We wish to see what Abhishek is looking like now. Aishwarya Rai Bachchan and Abhishek Bachchan Ditch Anurag Kashyap's Gulab Jamun To Make Way for Sanjay Leela Bhansali's Biopic on Sahir Ludhianvi?
Abhishek and Aishwarya's daughter Aaradhya is also with them. Earlier in the day, Abhishek posted pictures three bicycles with the names of the family members, including Aaradhya, labelled on each one. Aishwarya has so far only shared a picture of an infinity pool overlooking the blue ocean. Aishwarya Rai Bachchan Wishes Husband Abhishek Bachchan on His Birthday With This Cute Pic.
Abhishek also wrote a quirky caption for the picture that he posted. "Honey and the moon", he quipped.
Check out the post by Abhishek here:
Also, here is the picture from Abhishek's Instagram story: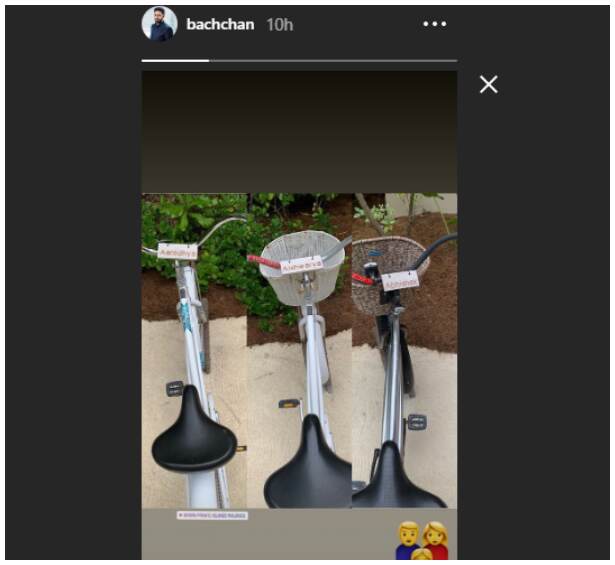 Abhishek and Aishwarya have worked together in several movies. They have starred as enemies in the blockbuster hit, Dhoom 2. They have starred as inseparable lovers in Kuch Na Kaho. They have starred quite separable lovers in Raavan. They have shaken a leg together in Kajra Re from Bunty aur Babli, which still remains an iconic dance number. They have also given the performance of a lifetime in the Mani Ratnam's drama, Guru. We are so looking forward to seeing more of them on the screen. There were reports that they will star Anurag Kashyap's Gulab Jamun, but that could not happen for some reason.