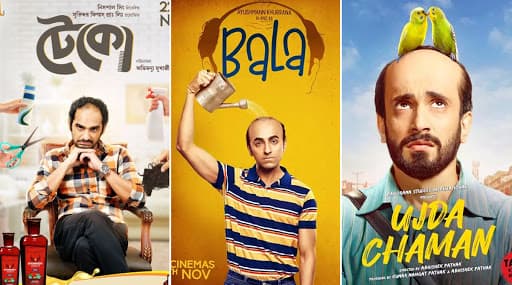 While makers of Bala and Ujda Chaman duel it out in court, a Bengali film of similar premise has hit the Youtube with its first trailer. The film is titled Teko (Baldy) and is directed by Abhimanyu Mukherjee. It stars Ritwick Chakroborty and Srabanti Chatterjee. Actress Manali Manisha Dey revealed that this film was ready two years back but was finding it difficult to reach the theatres. Sunny Singh's Ujda Chaman Makers Drag Ayushmann Khurrana's Bala Producers to Court to Stall its November 7 Release
Manali shared on Twitter, "Believe it or not TEKO, A flim by Abhimanyu Mukherjee was conceptualized and completed almost 2 years back, but due to unavoidable reasons couldn't see the light of the day but finally it's coming to theatres on 22nd November....The Teaser poster is here.. pls support original content and above all Bengali cinema ..This time we really need your support.... #Banglachobiegiyethak (sic)" Check out the full tweet here...
Teko...@abhimanyumuk pic.twitter.com/N0yzeAiZfb

— manali dey (@ManaliManishaDe) October 18, 2019
Now Teko is not about a physical condition induced balding but a side effects of using random oil to boost hair growth. The protagonist loves his hair and even takes selfies with women who have good long hair. But his greed for more hair on his head makes him try out a random product and lose his mane. That ensues his revenge on the brand and how that ensues. The trailer shows it will be a hilarious take on the subject. Check out the trailer here..
Teko isn't exactly same as Bala and Ujda Chaman but have a similar premise. So now three movies of similar nature are releasing on the same month...how interesting!