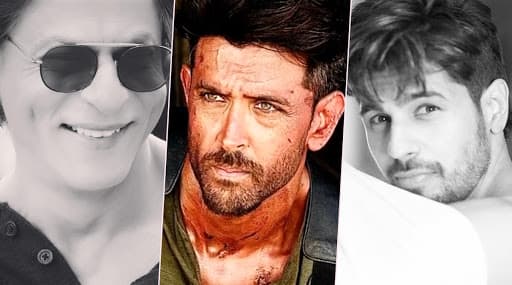 Today is International Men's Day. If you are wondering why to celebrate it, let us tell you what Wikipedia has to say about it. So this day is celebrated on November 19 every year for The Six Pillars of International Men's Day that focus on men's health, work on gender relations, speak about gender equality, talk about discrimination against men, and promote role models. So yea, some feel there's a need for that too. International Men's Day 2019: Chris Hemsworth, Robert Pattinson, Keanu Reeves – Meet Hollywood's Most Handsome Men
We have decided to focus on the obvious... skim through some really good looking pictures of Bollywood men to celebrate this day. Don't worry we won't do this alone and will definitely share with you. Enjoy these 10 pictures...
Shah Rukh Khan
Shah Rukh Khan is 54 years old but that has done nothing to make him less charming or oh-so-good looking. Men need to take tips from him to be 50 and hot!
Hrithik Roshan
Every time we look at Hrithik Roshan, we turn into Tiger Shroff from War where he just couldn't take his eyes off this Greek God of a man! War: Was There a Hidden Gay Love Story in Tiger Shroff and Hrithik Roshan's Action Thriller? (SPOILER ALERT).
Sidharth Malhotra
Sidharth doesn't really need to put much effort to look this desirable. Look at the picture...he is just changing clothes!
Dulquer Salmaan
Dulquer Salmaan is such an attainable beauty, like the men who we can actually imagine making ours.
John Abraham
John Abraham is a hulk and a hunk! Just look at that body and that face...what a perfect combo of beauty and brawn.
Ranbir Kapoor
Ranbir's next-door-boy charm is his asset. That's why he can get away with a Bombay Velvet and yet people shower him with their love in Sanju.
Vicky Kaushal
Another guy who oozes attainable charm... a guy who we would love to date and take home to our parents. The proverbial good boy!
 

 

 

View this post on Instagram

 

 
Kartik Aaryan
That's the man your mother warns you against, a heart-stealer and a heart-breaker but what a Heartthrob. Kartik Aaryan is all that and then some more.
 

 

View this post on Instagram

 

 
Varun Dhawan
Varun Dhawan is funny, funky and cool...something we all want in a man of today. His love for all things 90s is our weakest point.
View this post on Instagram
Ayushmann Khurrana
Ayushmann Khurrana is good looking, smart, rational, intelligent and a Shayar! Uff...what a killer combo!
You can thank us later for such a wonderful article where you can enjoy the sights. Happy International Men's Day, people!