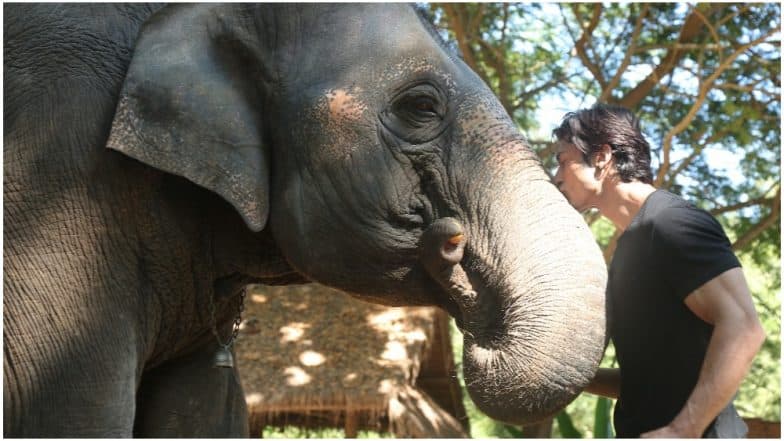 Vidyut Jammwal is all set to impress us once again with his stunts and kicks in the upcoming, Junglee. The movie is directed by Hollywood film-maker Chuck Russell, who earlier made films with Jim Carrey, Arnold Schwarzenegger and Dwayne Johnson. Junglee is an action thriller based in the jungles of India, and had Vidyut play saviour to elephants protecting them from poachers, led by Atul Kulkarni's character. Junglee Star Vidyut Jammwal Teaches Us On 'How to Befriend a Python' in This Jaw-Dropping But Adorable Video!
Which of course, means that elephants play an integral part of the movie. As Vidyut revealed, the pachyderms were the stars on the shoot and made everyone from the actors and the director be on their toes with their 'tantrums'.  The elephants used to end up eating the foliage on the set. It use to end up in a funny situation that the cast and crew would wait for them to settle and then give a shot.
Vidyut Jammwal revealed, "Elephants were our stars. To add depth, the crew used to add foliage on the set but for elephants, it was their usual lunch. We literally sat and witnessed Bhola and his gang relish our set while the crew again rebuilt the setup again. When the herd was done eating and relaxing, we would take positions and perform." Vidyut Jammwal Takes Daredevilry To the Next Level in His Upcoming Action Film Junglee.
He also added that the elephants' behaviour added fun to the sets. Vidyut continued, "We were like the secondary cast, always on standby. The unpredictability made it so much fun. We were lucky to witness elephants in their natural habitat, just being themselves. The final result was worth all the wait. We were one with nature. Experiences like this don't come often."
Watch the trailer of Junglee here:
Chuck Russell and the Junglee unit also made sure that the environment was kept as natural as possible and there was zero carbon footprint on sets to maintain the accuracy. The actors and crew members were instructed to communicate softly on sets as elephants are used to a silent atmosphere.
Junglee is all set to take you to an adventure ride on March 29 with Vidyut Jammwal playing the role of a vet, Pooja Sawant as Mahavat and Asha Bhat as a journalist. Akshay Oberoi also plays an important role in the film. (sourced from partners)