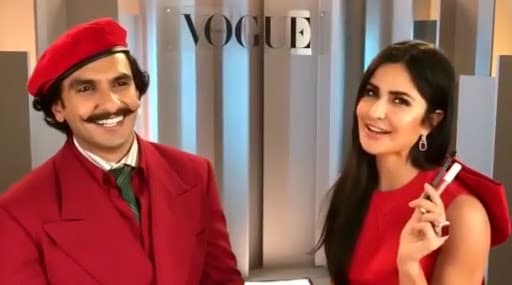 Recently, Katrina Kaif launched her own line of beauty products called Kay Beauty in association with Nykaa. The products will be out for consumption from October 22 but not before the actress does some publicity for it. Apart from posting on Instagram about it every other day, she also had Ranveer Singh try out one of her products. The result is of Ranveer looking completely dazed!  Vogue Women Of the Year 2019 Winners' List: Katrina Kaif, Ananya Panday Win Top Honours, Ranveer Singh Bags Man of the Year
The video has Ranveer talking to Katrina about her products when she offered to put kajal on him. The actor goes on to say he did wear kajal for some of his characters and when Katrina puts it on him, he looks all gooey-eyed! He also feels supremely hot...he admitted it himself.
Ranveer has a way of making things quite fun for everyone. He is supremely funny and adds a dash of his wacky self to everything. We doubt Katrina would have gotten a more amusing actor to endorse her products one day before its official launch. What do you think?