Vicky Kaushal was a livewire at the Filmfare awards 2019. Some inside photos and videos from the award show that have circulated online show how much fun he had along with industry bigwigs including Deepika Padukone, Ranveer Singh, Alia Bhatt and Ranbir Kapoor. Speaking of which, a super awkward photo of Vicky kissing Ranbir is going viral on social media. Of course, the kiss was meant for the cheeks but you know how sometimes you just accidentally end up kissing the other person on their lips instead? Something similar happened with Vicky and RK. Right next to the Sanju actor was his girlfriend Alia Bhatt, who had a good laugh as the moment got captured. Good Vibes Only! Katrina Kaif and Ranbir Kapoor Hug it Out at the Filmfare Awards 2019 - Read Inside Scoop.
Check out the photo below: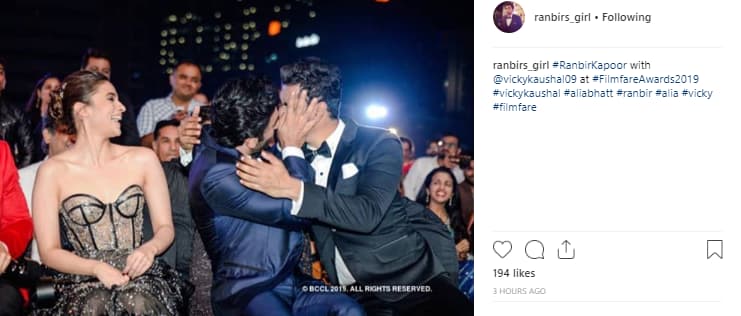 Yup, we know... it is indeed a little too uncomfortable for the eyes but these kinda instances keep happening, not just with them, but with us too! Or probably it was all staged and was a part of the script? So you guys, just take a chill pill and have a hearty laugh just like Alia did.
In other news, Filmfare 2019 was attended by several actors including Shah Rukh Khan, Katrina Kaif, Janhvi Kapoor, Sara Ali Khan and many more. It was a funfilled Saturday night and we're sure tinsel townies had a gala time but looks like Twitterati didn't. Netizens are mad at the makers of the award show because they're apparently unhappy with the winners. Filmfare Awards 2019: Twitterati is Mighty Pissed Off With the Results! (Read Tweets).
The winners' list saw names like Badhaai Ho, Padmaavat, Sanju, Raazi but movies like Andhadhun and Laila Majnu were royally ignored to a great extent! We wonder what our favourite starlets have to say to that. And as for this picture, we'd like to hear it from RK and Vicky themselves what they gotta say about it.