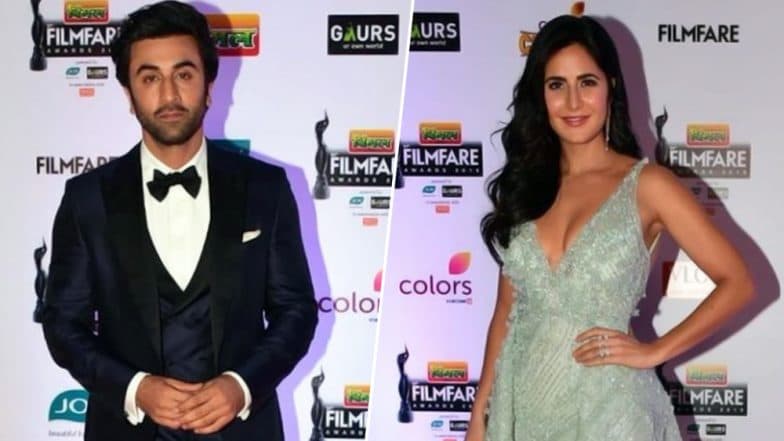 Last night at the Filmfare awards 2019, the who's who of Bollywood gathered under one roof. There was Katrina Kaif, Alia Bhatt, Deepika Padukone and Ranbir Kapoor under one roof! Now there is one common thread between these ladies- Ranbir Kapoor, and you might be wondering if there must've been some cold vibes shared as the four of them came together. But let us tell you, that's absolutely untrue and incorrect! On the contrary, there was much positivity and love in the air as Deepika, Alia, Katrina and Ranbir came together for the award show. Ranbir Kapoor Cannot Stop Blushing as Alia Bhatt Says 'I Love You' On Receiving an Award at Filmfare 2019! (Watch Inside Video).
A report in Pinkvilla suggests that Katrina and Ranbir even hugged it out at the award show last night. While things were anyway going fine between Kat and Alia, it was kinda unexpected that she and RK would come to talking terms. But they did. It all happened right in front of Alia who was more than happy to see Katrina and Ranbir bonding with each other. As for Deepika, both Ranbir and Alia have been on cordial terms with the actress and for the awards last night, they even sat next to each other. The pics are all over the internet where Dippy, RK and Alia are engrossed in talking about something interesting! If only we could be a part of the conversation too... Nevertheless, we are so glad that Katrina and Ranbir hugged it out last night. Of course, they both moved on long back but we never saw them getting together. Anyway, as they rightly say, all's well that ends well! 64th Filmfare Awards 2019 Best Actor Award: Ranbir Kapoor Takes Trophy in Popular Category for Sanju; Ranveer Singh Scores in Critics' Choice for Padmaavat.
Check out the photo here:
In other news, it was a big night for Ranbir and Alia who won big at the Filmfare awards 2019. The two have been dating for over a year now and reports suggest that marriage is on cards for the lovebirds. Let's see what future has in store for them.