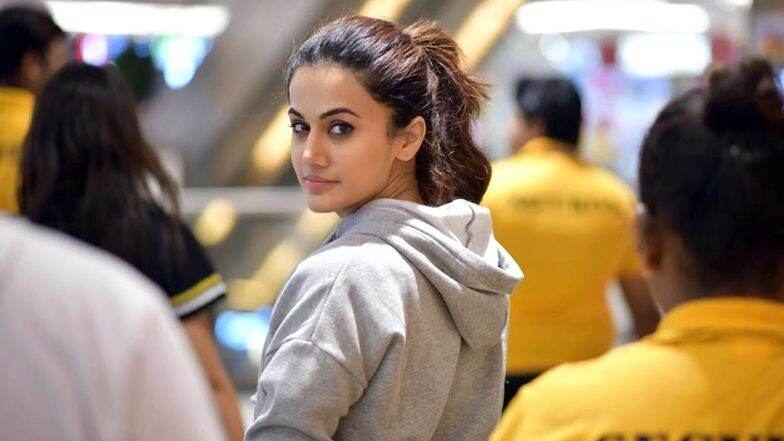 Taapsee Pannu is yet another actress that Bollywood has, who does not mince words and prefers calling a spade, a spade. And that very nature of her's landed the actress in a controversy of sorts when she spoke up about being replaced by Bhumi Pednekar in the Pati, Patni Aur Who remake by the filmmakers. However, the makers also issued a statement and slammed Taapsee. Taapsee in an interview back in January was quoted as saying, "I was at the narration in November, in the presence of Juno and Abhay (Chopra, the producer). I liked the script and gave it a go-ahead. I was asked to clear my schedule and I complied. Only the clauses remained to be negotiated. But suddenly, they vanished." Taapsee Pannu's Name Was Suddenly Dropped From Kartik Aaryan's Remake of Pati Patni Aur Woh To Accommodate His Girlfriend, Ananya Panday?
After Taapsee's statement, co-producers of the movie Juno Chopra and Bhushan Kumar had released a statement which read that they had approached many actresses from the industry and that Taapsee was one of them. They also clearly stated that they had 'never made any commitment to her.' the statement also read that they would like to work with Taapsee in the future as she was extremely talented. Kartik Aaryan's Pati Patni Aur Woh Remake Makers Reveal Taapsee Pannu was Never Finalised for the Project
Later on, the final cast was announced with Ananya Pandey, Bhumi Pednekar and Kartik Aryan. And while it's been a few months to that incident, Taapsee still has to answer questions pertaining the matter.
In an interview with Bombay Times, when Taapsee was asked about the incident, she sounded upset but seems to have made peace with the incident. Said Taapsee, "I always knew that you can't trust people blindly. I am used to rejection. I have been replaced by other actors owing to favouritism or sometimes because I am genuinely not good enough or suitable for a certain role. I am an outsider so you get used to getting things the hard way. However, after blocking my dates, I discover that someone else (Bhumi Pednekar) has been roped in. That's wrong. It's okay to replace an actor after blocking their dates, but tell them. Have the courtesy to inform. I will feel bad, but I will at least appreciate that I was told." Tapsee Pannu won't work with Jacqueline Fernandez anymore? Find the truth here!
Elaborating on what irked her, Taapsee revealed, "I get to know through someone else that I was dropped... that's not done. I called out that behaviour. In return, they gave statements as they had never committed that part to me. I could have easily made it all uglier and bitter by releasing the messages that are proof of my dates being locked, but I didn't do it because I wanted to call out the wrong practice, not those people."
Soon after Taapsee's name was dropped from the film, there was buzz that it was done so, to make way for Kartik Aarya's rumoured real-life ladylove Ananya Pandey into the project. It was reported that the makers wanted to cash in on Kartik and Ananya's brewing romance.