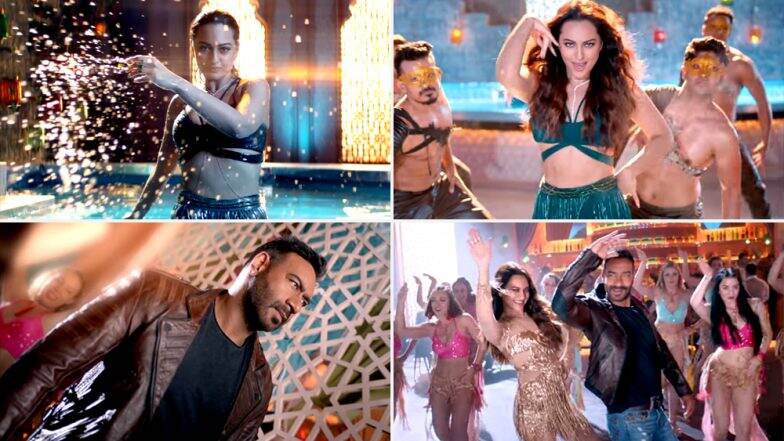 The second remake song from the upcoming film, Total Dhamaal, is out.  The first one was the remake of Paisa Yeh Paisa. The next one is a rehash of the hit dance number Mungda which featured Helen. The new song, features Sonakshi Sinha in the music video. And while just the thought of a song remake is enough to scare one, Mungda actually turned out to be a good one. Yes, in this era of shoddy remakes is actually a good take on the old song. While retaining the recall value of the old one, Mungda adds its unique, dazzling touch to it. But it does not get full marks. Why? Read on.
The re-composition of the music in Mungda is fabulous. Gourov-Roshin have been credited as the music directors. They might be relatively new names in the industry, but they are about to rise to fame. Jyotica Tangri's voice goes perfectly with the number. Near the end, backup vocals kick in and Jyotica changes the key which adds a very sexy texture to the song. Total Dhamaal Trailer Memes Are Funnier Than the Trailer! Ajay Devgn, Arshad Warsi, Madhuri Dixit, Anil Kapoor's Comic Caper Gets Roasted by Netizens.
Check out Mungda from Total Dhamaal below:
The bad thing about this Mungda remake is the absolutely abysmal choreography. On one hand, Helen carried the entire song on her shoulders back in the days, and here, Sona is failing at it with grand sets and background dancers. And it is not her fault at all. The choreography of the entire song is devoid of any energy. The steps are not good or unique enough to be catchy. There are bad song remakes with good choreography. Mungda might be the first one where the remake is good but the dance isn't.
Total Dhamaal stars Ajay Devgn, Anil Kapoor, Madhuri Dixit along with the original Dhamaal gang. The comedy movie, directed by Indra Kumar, is due to release on February 22.