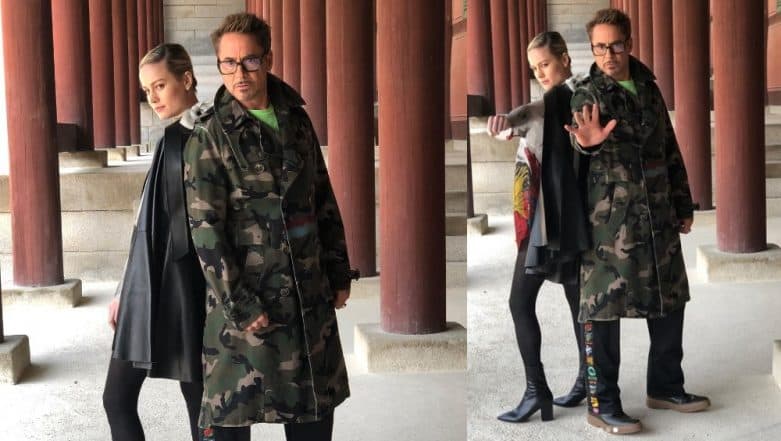 Brie Larson and Robert Downey Jr seem to be having a good time threatening Thanos from Seoul. The duo superheroes, while promoting their upcoming Marvel movie, Avengers: Endgame in South Korea, went on a posing spree. Perhaps their intimidating gazes and poses were to make Thanos worry about how they would make a powerful combo to defeat him? Well, either that or doing it for the money.
As per the post shared by Robert Downey Jr on Instagram, the caption reads, "Making faces for cash and chicken with @brielarson #captainmarvel #girlpower #valentino @avengers #press #tour #2019 #TeamStark #hair @davynewkirk #syle @jeanneyangstyle" The superheroes seem to be having quite a blast with the way they are getting along. During one of the press conferences, Brie Larson did mention how she thinks Thanos (Josh Brolin) should be scared of her. "I don't know, but I think he should be scared," and placed the mic down, kind of like a mic drop act! To this, Robert also added, "Yes! Right, he should be!"
There are speculations that Brie Larson might be the saviour to defeat Thanos. Well, if you're any bit versed with how the Marvel Comics stories go, Larson as Captain Marvel is a strong candidate who can easily take on Thanos. That way even Drax the Destroyer has an upper hand against Thanos.
Avengers: Endgame is set to release on April 26. The film also stars Chris Hemsworth, Chris Evans, Mark Ruffalo, Samuel L Jackson, Jeremy Renner, Paul Rudd, Bradley Cooper, Josh Brolin, Don Cheadle and others in pivotal roles. The film has been directed by Anthony and Joe Russo and will release in various languages.