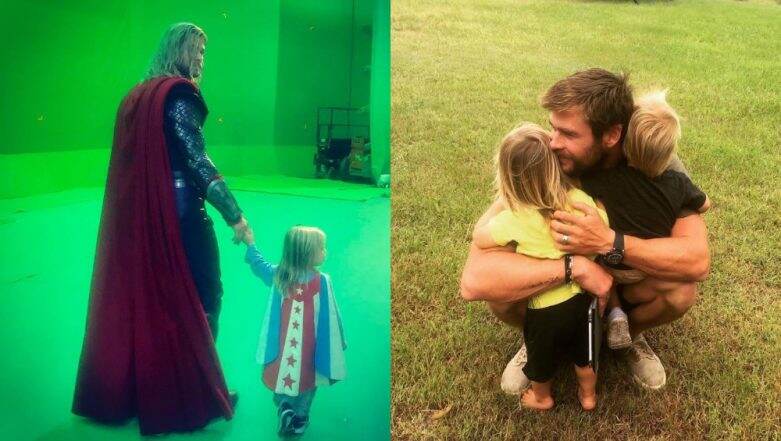 Chris Hemsworth may be that hot Australian who sweeps you off your feet... in your dreams of course. But his Daddy-skills and tactics will definitely make you want him even more! Uh, just so you know, the 35-year-old hunk with a body as godly as, well, Thor, is the father of three beautiful children. A video clip from a 2015 interview on The Ellen DeGeneres Show has an interesting anecdote shared by the actor. He divulged on the details of what his four-year-old daughter, India, told him once and how he took care of the matter.
"My daughter's kind of envious of my boys," Hemsworth told Ellen. "She came to me the other day, and she's like 'You know, Papa, I want one of those things that Sasha and Tristan have.' And I'm like, 'What do you mean?' She said, 'You know the things in between their legs that you have.'"
Of course, Hemsworth did his best to explain the different anatomy of a male and female body. But his daughter was set in her mind that she wanted a pen*s. He went on, "She goes, 'I really want one!' Hemsworth said. "I'm like, 'A pen*s?' And she's like, 'I want a pen*s!' Finally, he curated the best answer and yes, we're applauding! The story concluded with him saying, "She's four and I'm like, 'You know what, you can be whatever you want to be.' And she goes, 'Thanks, Dad.' Runs off into the playground and that was it."
Watch the video here!
Awkward parenting situations done right! The actor is married to Elsa Pataky and they've been going strong for quite a long time. We'll be seeing Hemsworth in the next Avengers 4 movie where he will reprise his role as Thor, Odinson.