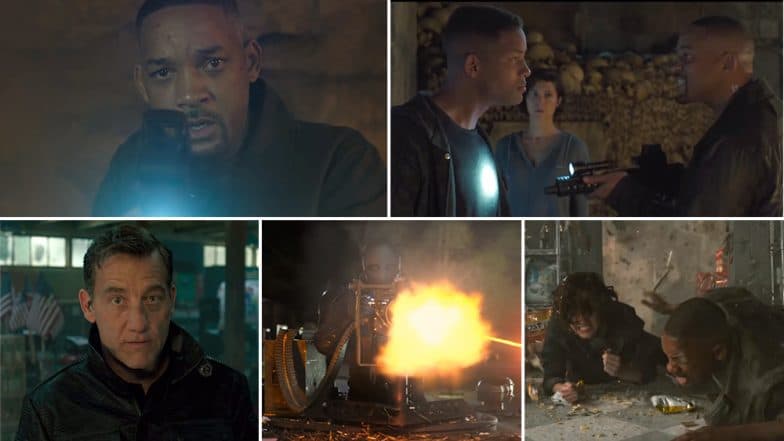 The second trailer for Will Smith starrer action film, Gemini Man, hit the internet today. While the first footage of the film hinted that two Will Smiths will be trying to kill each other, the new footage digs deeper. Will Smith is trying to save Will Smith. The movie features the actor playing the role of Henry Brogan, an elite assassin, who is being targetted by his identical-but-younger looking clone. The CGI work in the film seems exemplary. You cannot point out one mistake in the CGI rendered younger-version of Will Smith.
Novelty is not the USP of this film. We have already seen CGI-de-ageing in Captain Marvel this year. Also, early 2019 saw an amazing movie about doppelgangers trying to kill the originals, Us. From the second trailer, it seems tough for Gemini Man to match the level of the drama of Jordan Peele's horror film. Let us not forget Looper, which also had a decently similar plot. We are still going to put our faith into Gemini Man and eagerly wait for it come out. Will Smith Freaked Out by His 'Younger Clone' in Gemini Man: 'Was Looking at the Perfect 23-Year-Old Version of Me'.
But the director of Gemini Man is Ang Lee, the visionary man behind movies like Life of Pi and Crouching Tiger, Hidden Dragon. So, of course, we can be sure that the movie is in safe hands and we will get to see something engaging, to say the least. The trailer looks cool despite all.  And Jaden Smith's song Icon playing in the background sounds fantastic.
Watch the Trailer of Gemini Man below:
The action set-pieces in the trailer of Gemini Man look incredible. The stunts performed on the bike are exhilarating. Although, there is a scene where Will Smith shoots a grenade without making it explode and only pivoting it, might be up for debate. The fight sequence in the catacombs of Paris also looks something we should be excited about. Gemini Man releases in theatres in October, 2019.