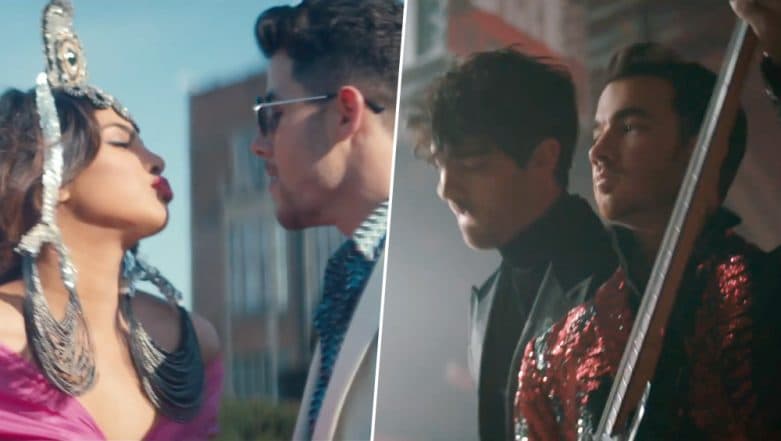 And the Jonas brothers are back and how!! Joe Jonas, Nick Jonas and Kevin Jonas have collaborated once again for a music video after a long gap and they are here to KILL IT! The new music video titled 'Sucker' featuring the Jonas Brothers and their respective wives aka Sophie Turner, Priyanka Chopra Jonas and Danielle Jonas. The song is super cool, the beats are catchy and the visuals are so quirky that it will have you hooked! Right from the beginning till the very end, the new song by the Jonas brothers will make you go bonkers! Jonas Brothers Reunite: Comeback Song 'Sucker' Featuring Priyanka Chopra and Sophie Turner Is a Total Banger – Watch Music Video.
Check out some of the most hilarious and relatable Twitter reactions to the song here:
Haha, can't think of any!
Name a more iconic family. I'll wait. #JonasBrothers #suckervideo pic.twitter.com/he9Eq6OKYu

— Bruna Rivers | #TheVirusIsSpreading (@itsbrunarios) March 1, 2019
They are killing it, and how!!
THEY ARE KILLING ME #SuckerVideo @jonasbrothers pic.twitter.com/ML5MxBcgs0

— #Sucker. ★ (@lawrencesmoretz) February 28, 2019
We couldn't agree more
I DIDNT REALIZE HOW MUCH I MISSED THEM UNTIL NOW OMG #SuckerVideo they've always sounded so good together 😪

— 🌟 𝓛𝓪𝓭𝔂 𝓓𝓲 🌟 // Queen I enthusiast ✨ (@kiwiflavorqueen) March 1, 2019
This was SO hot!
This was hot- #SuckerVideo pic.twitter.com/9niPGlpefd

— princess tati 👑 (@hstyls96) March 1, 2019
Welcome back, indeed
@nickjonas @jonasbrothers #Sucker #SUCKERVIDEO #JonasBrothers Welcome back!!!! pic.twitter.com/1VuPj2hQA4

— Itzel Ariadne Jiménez (@Itzel_de_Jack) March 1, 2019
It was totally worth it
The wait was worth it omg!! Boy have I miss you guys @jonasbrothers #SuckerVideo

— Jan (@OhSoJan) March 1, 2019
They are officially back
Speechless rn. I've been waiting for this and now, they're officially back—it makes my heart so happy. ❤ Love you and thank you for coming back! Congratulations on the #SuckerVideo #JonasBrothers @jonasbrothers @kevinjonas @nickjonas @joejonas pic.twitter.com/utMqcn4HyX

— 𝙹𝙺𝚂𝙻 (@jklobina) March 1, 2019
Neither can we
I just can't get over how hot this family is!! #SuckerVideo pic.twitter.com/DlSawgXlRC

— ᗩᒪYᔕᔕᗩ (@Msfrizzles) March 1, 2019
Have you guys watched the Sucker video by the Jonas Brothers yet? What's your take on it?
It was only yesterday when Joe Jonas tweeted a picture of him along with Kevin and Nick Jonas and it had 'Sucker' written on it. While we presumed that it was the announcement of the Jonas brothers coming back, we didn't expect the song to come out so soon. In any case, we're more than happy and Sucker is definitely going to be on the top of our playlist for this weekend! How about you?