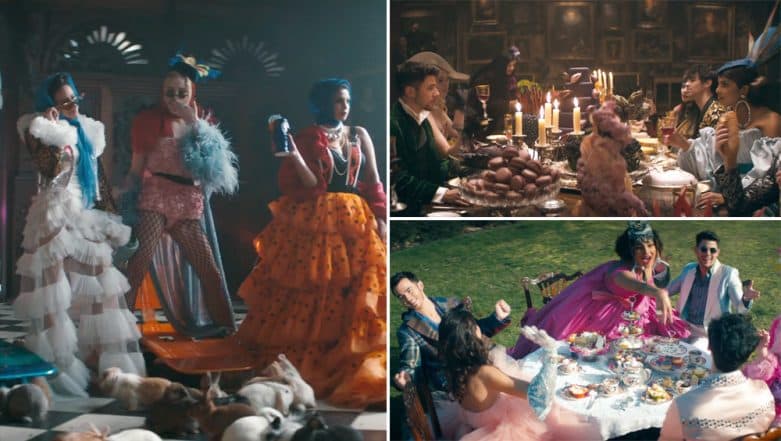 About 5 years ago Joe Jonas asked the fans of Jonas Brother to hold it, while they got the band gots its 'shit together'. This was a truly honest way to announce that the band is taking a break. Today, the singer announced that their shit is together with the latest single by Jonas Brothers. The new song '"Sucker" by Joe, Nick and Kevin is a total banger. The wait for almost five years has been totally worth it, we say. Even more because of the fact that the music video features Priyanka Chopra. Also, Sophie Turner and Danielle Jonas. Can this day get any better? Priyanka Chopra Cheers For Hubby Nick Jonas As He Performs Live at Their Wedding Reception in Jodhpur - Watch Throwback Video.
Every time I missed Joe's crispy voice, I resorted to listening to "Cake By The Ocean" on loop, the last good song by the singer. Grateful that I can now switch to "Sucker". The ditty is upbeat and groovy -- lyrics, fun and quirky. We, definitely, see a chart-topper here. "Sucker" maintains the trademark Jonas Bros groove but also establishes that the fellows have grown up and so has their music. Reinvention was the key for the three brothers, and they sure have mastered it.
Watch Jonas Brothers' Sucker Here:
"Sucker's music video is vibrant, weird and oddly beautiful. It compliments the music video oh-so-perfectly that I am going to cry. "Sucker" is not a song; it is a mood. It is filled to the brim with quirky imagery and allegories, and sexual metaphors that my pure soul is having trouble to understand.
Jonas Brothers' "Sucker" is going to be a hit. Can't wait to see more of the boy band.