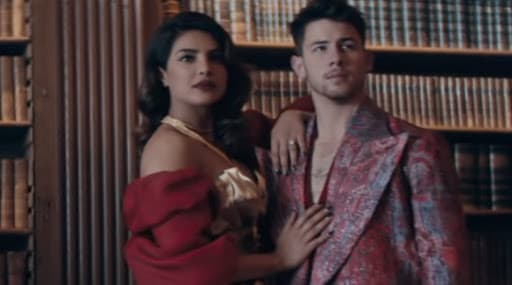 Grammy 2020 nominations were announced recently and Jonas Brothers' Sucker got a nomination in the Best Pop Duo/Group Performance. Nick Jonas obviously is elated and took to twitter to share his excitement. He wrote "We are Grammy Nominated." Of course, it must be such a proud moment for them. But it is the comments below his tweet that will make your day. Twitteratti can't stop commending their Jiju (brother-in-law) for the appreciation and also requested that Priyanka Chopra be with him when he attends the gala next year. Nick Jonas Steals Priyanka Chopra's Face Masks and if This Doesn't Give You Relationship Goals then We Don't Know What Will
The brothers Nick, Kevin and Joe came together to make music again after a hiatus of many years. It was an emotional moment for them which warranted an Amazon special as well. Sucker was their first song that was out which had the better-halves of all the brothers in it. So there was Priyanka, Danielle and Sophie Turner. It looked more like a Bollywood song. Anyway, it became a raging hit. No wonder Twitter is extremely happy for him.
Congrats jiju 🔥 pic.twitter.com/uKZFHbnKOZ

— Kalimahtoyibah (@Kalimahtoyibah3) November 20, 2019
You go Jiju!
Yasss Jiju! You deserve pic.twitter.com/baLFr1L4xO

— 𝚂𝚝𝚊𝚌𝚢 🎄 (@StacySuperDuper) November 20, 2019
Here's a request
Congratulations jiju. Can't wait y'all to perform sucker. And please bring pri with you & tell ha to meet beyoncè cuz I deserve my priyonce moment. 😍😭🙏

— vísh (@yasiruvismini_) November 20, 2019
Jiju is deserving enough
Congratulations jiju you guys deserve. pic.twitter.com/ulO8kNOBBZ

— CONFUSED SOUL 🙄🤔 (@DDhararaval) November 20, 2019
Priyanka's proud wife moment!
Congrats 🌟🌟🌟 #PriyankaChopra must be proud wife! #GRAMMYs #GrammyNominations #jonasbrothers #NickJonas pic.twitter.com/LY6dIzDYdT

— Fa6ma ♕ (@Breezy_Breeze10) November 21, 2019
Priyanka had said in one of the interviews to a foreign magazine that Nick has become nation's favourite Jiju. We can see that she wasn't lying after all!