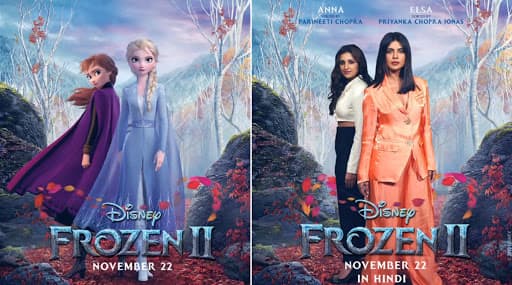 Aishwarya Rai Bachchan recently dubbed in Hindi for Angelina Jolie in Maleficent and now we have two more Bollywood beauties joining the fray. Priyanka Chopra and Parineeti Chopra will dub in Hindi for Disney's Frozen II. Priyanka will be Elsa while Parineeti is Anna. That would be super cool to hear as it will help the makers keep the film more identifiable by the masses. Evan Rachel Wood, Sterling K Brown Board Voice Cast of 'Frozen II'
Priyanka announced it on Insta saying, "Mimi and Tisha are now Elsa and Anna! The #ChopraSisters are finally coming together for Disney's Frozen 2.
Can't wait for you guys to see us… I mean HEAR us bring these amazing, strong characters to life in Hindi. #Frozen2 in theatres on 22nd November 2019." We would have wanted them to dress for the poster a bit rather than seeing random pics of them on it. But we hope there will be other opportunities for that.
This isn't the first time Priyanka will lend her voice to a Hollywood film. She was the voice of Kaa for The Jungle Book. She sounded awesome then, she would be awesome here too. In her we trust!