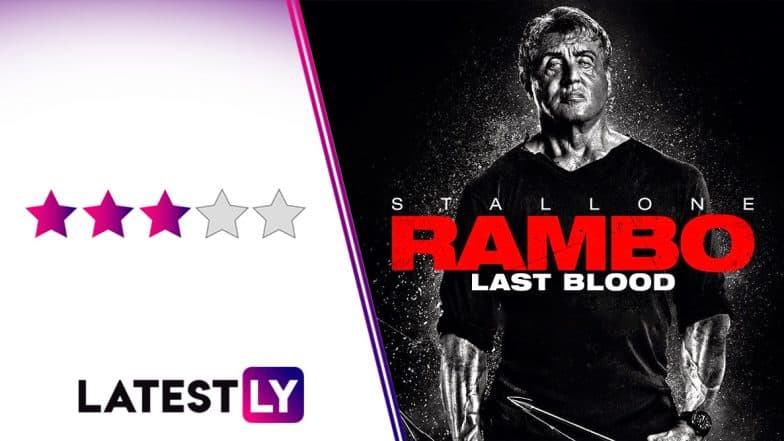 Sylvester Stallone said that he would like to return to play John Rambo again if they bring a good script and production. But I think it is time for the man to retire from playing a former US soldier. Stallone has played the part for over 39 years now and I really think it is time for him to rest his violent streak. The fifth part to the famous franchise, Rambo: Last Blood has been helmed by Adrian Grunberg. Did he do justice to the franchise by bringing in a new style to a now aged John Rambo? We managed to catch the screening of the latest Rambo movie and hopefully the final Rambo movie and here's what we think about it. Rambo: Last Blood Movie Review - Sylvester Stallone's Last Outing in his Famous Franchise Gets Criticised for Being Too Gory and Shallow
The film, Rambo: Last Blood begins with John Rambo (Sylvester Stallone) enveloping himself in the horrors of his violent past. Things are different now as he is taking care of his brother's daughter. Everything is rosy and things couldn't have been calmer for Rambo as he settles in the arid regions of Arizona. But his brother's daughter, Gabriella, while does dote him far too much, hunts down her blood father. With doubts over why he left her and her mother, Gabriella simply cannot go to college with these questions still lingering in her head. Lucky (or unlucky) for Gabriella, her friend Gisele tracks down her father in Mexico and asks her to come down. Much against the will of Rambo, Gabriella does what she has been asked to avoid and drives down to Mexico. Next thing you know, all hell breaks loose and John Rambo has a new fight to acknowledge. 'Rambo: Last Blood' Ends Franchise on Satisfying Note, Says Director Adrian Grunberg
Once again, Rambo wears his famed bandana (metaphorically) and ventures out to track down Gabriella while dealing with the ruthless Martinez brothers. Director Adrian Grunberg has ensured that Stallone as Rambo stays true to his violent side and opens fire for a cold-blooded war of carnage. When you go to watch the film, it is quite obvious that you go for the action sequences and the nostalgia bit. Stallone does play the vindictive soldier one last time so it is without saying that there would be tremendous warfare and a bloodbath. And Grunberg has made sure that the audience is not disappointed as he checks off those boxes. In terms of the writing and the plot, don't expect anything unpredictable or original. It is a film about revenge and neither of the parties will keep calm till they see each other bleed. Ahead of Rambo: Last Blood's Release, Sylvester Stallone's Rambo 4 to Have Special Screenings in Select Cities in India
Rambo: Last Blood Trailer
The one positive about the writing is with respect to how they have changed Rambo's battle challenges. Unlike how he's usually the one to shoot the enemy in the face, the fifth part shows a careful and calculated soldier who knows what battles to pick. He doesn't blindly go about shooting everyone in the face, slitting throats or bombing houses. This Rambo is being very smart about survival and is watching his back considering how he is old now. The writing is pretty basic, as I mentioned earlier. The good thing is that it will keep you entertained with its simple storyline and high octane action. Stallone as an older Rambo is good and makes the enemy cry rivers of blood despite taking a beating. The supporting cast Paz Vega as Carmen Delgado, Yvette Monreal as Gabrielle, Sergio Peris-Mencheta as Hugo Martinez, Oscar Jaenada as Victor Martinez and Adriana Barraza as Maria Beltran do their jobs really well.
Yays
- Engaging and entertaining action sequences
- Stallone's demure version of John Rambo
- The bog-boy Home Alone sequence by the end of the film
- Decent supporting cast
Nays
- Mediocre plot
- Predictable storyline
- Not the best of Rambo
Final Word
If this is farewell, I wouldn't say that this was the best that John Rambo deserved. Surely, the story could've been better, the characters more refined and the conflict but touching. However, Rambo: Last Blood cannot be considered as the worst of all as it does provide the audience with the right amount of madcap action, enough emotions and all the nostalgia.