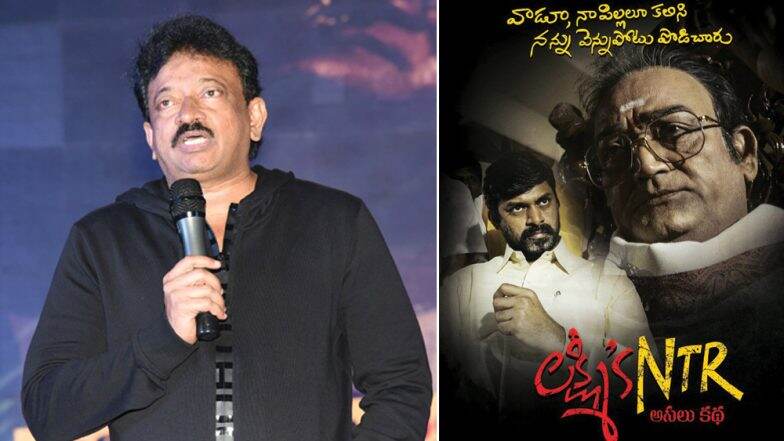 Ram Gopal Varma who is also called as RGV directed the film Lakshmi's NTR. The film is based on the real-life of former chief minister of N. T. Rama Rao. The role of former CM of Andhra Pradesh is essayed by P Vijay Kumar whereas the role of Lakshmi Parvathi is played by Yagna Shetty. The film has stirred lot of controversy for its story line due to which there were complaints raised to stop it as the elections are nearing. Now, RGV has confirmed that he will file a case on the Central Board of Film Certification (CBFC) for illegally stopping the biographical drama. Jr NTR's Heroine Daisy Edgar-Jones' Role in RRR Revealed!
Ram Gopal Varma has released a statement in which the initial part mentions, "THE CENTRAL BOARD OF FILM CERTIFICATION (CBFC),in a signed Letter informed me that my application for them to view my film cannot be processed for examining and certification till the 1st phase of polls on 11-04-2019, as the movie attracts the provisions of model code of conduct for elections because parties and candidates will have to refrain from criticism of all aspects of private life and criticism of other parties or their workers based on unverified allegations or distortion. A copy of some material about the statement of N.Lakshmi Parvathi against Telugu Desam Party was also annexed with the letter which has absolutely no relevance with the issue of the film."
Here's the post that Ram Gopal Varma shared on Twitter:
I AM FILING A CASE ON THE CENSOR BOARD FOR ILLEGALLY TRYING TO STOP LAKSHMI'S NTR Read the details at https://t.co/nKcycB7gtg pic.twitter.com/vKIw43mVPN

— Ram Gopal Varma (@RGVzoomin) March 17, 2019
In the statement, Ram Gopal Varma has clearly mentioned that the CBFC has no rights say that they wouldn't begin with the film's certification process unless the election gets done. Let's wait and watch what happens next with Lakshmi's NTR.