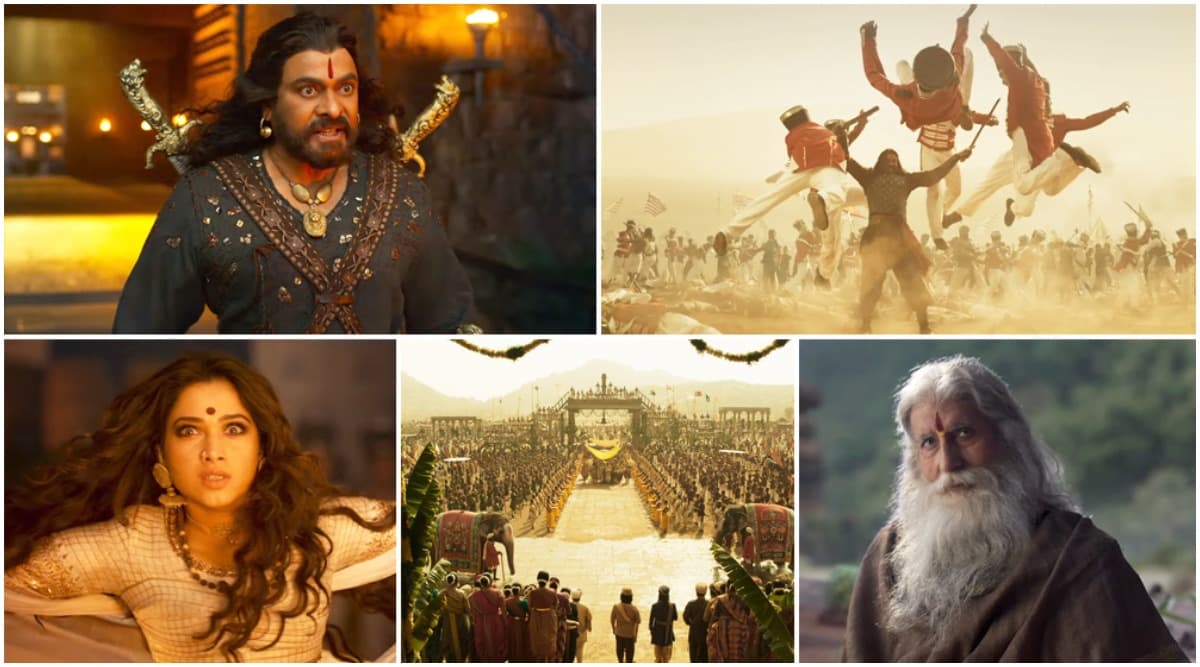 After Prabhas' Saaho managed to do decent business a few weeks back, now it is the turn of another Telugu film to impress the entire country. Sye Raa Narasimha Reddy, directed by Surender Reddy, is based on the life of the 19th century famed warrior from Andhra Pradesh, who took on the British and laid down his life, decades before the First War of Independence happened. Produced by actor Ram Charan, Sye Raa Narasimha Reddy stars his father, Megastar Chiranjeevi. Sye Raa Narasimha Reddy Movie Review: A Larger-Than-Life Chiranjeevi Towers Over This Patriotic Saga That Suffers From Excesses.
The movie also features an ensemble cast in Nayanthara, Tamannaah Bhatia, Vijay Sethupathi, Kichcha Sudeep, Ravi Kishan, and Jagapathi Babu, with Amitabh Bachchan in a cameo. We have watched the movie and found it to be visually appealing with a commanding performance from Chiranjeevi. But the movie is left down by uninspired storytelling, wasting the supporting cast, loud treatment and long runtime. It might appeal to Chiranjeevi fans, but SRNR could find it difficult to appeal to others who aren't. And the film, like any potboiler from down South, is filled with some incredulous WTF moments. READ AHEAD AT YOUR OWN RISK!
Anushka Shetty's Blushes
Anushka Shetty appears in a cameo in Sye Raa Narasimha Reddy. She plays the brave Rani Laxmibai, who tells the story of Reddy to her scared soldiers to inspire them. The only issue is Anushka wears way too discernible blush on her face to make us take seriously as the Jhansi Ki Rani. And considering the enemy forces were just standing at her doorstep, she is taking quite the leisure to tell a nearly three-hour story!
WhatsApp Forwards Loving British
When the flashback begins, two British officers are seen discussing about annexing India. One of them tells the other that Mughals had looted the country of its riches but couldn't loot its prestige. It seems like this particular officer believes in RW WhatsApp forwards that blame Mughals for making India poorer. And if India was indeed made poor by the Mughals, then why did the East India Company even bothered to take over the country then?
Narasimha and Laxmi's Underwater Meet-Cute
We first see Laxmi (Tamannaah), a dancer when she comes to Reddy's kingdom and takes a dip in the temple pond, only to see Reddy meditating underwater! The man could not only hold his breath for hours underwater, but he can also levitate himself in the water.
Narasimha's GPS Radar
To Laxmi and our consternation, it feels like Narasimha Reddy has a GPS radar fit in himself. If there is a burning house with inmates inside, he reaches there. If a farmer is being tormented by the British, he lands there. When Laxmi goes to commit suicide on a lonely hilltop, he even reaches there somehow. And yet when some farmers and a kid were killed by the British, that GPS radar failed to work.
Reddy's Amnesia
Narsimha Reddy gets the shock of his life, when his Guru (Amitabh Bachchan) tells him that he got married in his childhood. While his amnesia could be snubbed away thinking he was just a child, it comes even more of a surprise that his wife Siddhama (Nayanthara) remembers the marriage very well, and has been unconditionally loving him since that day. Reddy also gets another bout of amnesia that very same night when, after seeing Siddhama bare her heart out, he forgets that he had nearly driven another girl to end her life with his promise of marriage.
Setting A Horse on Fire
After Narasimha Reddy humbles a British officer and makes his horse gallop away with him, the humiliated officer is later seen dousing his horse in kerosene and setting it on fire. Where is PETA when you need them?
The Co-ordinated Extras
The villagers in Reddy's village are a strange kind. Every action, every expression of their feels co-ordinated. If one shakes his or her head, everyone does the same. If one bows his or her head, everyone does the same.
The Headless Killing
After Narasimha Reddy is brought to the gallows to be publicly hanged, he gives an impassioned speech about how that day is the birth of freedom. The British officers are also gracious enough to let him complete his long speech before they tried to hang him. Only that he doesn't die, as he holds his breath (someone please explain to the makers, that hanging doesn't work that way). He manages to escape and try to kill the main villain. Only for another officer to behead Reddy. But the loss of a head is not a roadblock enough for Reddy who still manages to stab the villain!
That Fake Head
After beheading Reddy, the British leaves the decapacitated head hanging (which also happened IRL). What should have been a very emotional and shocking scene is rendered moot by the fact that that head looks nothing like Chiranjeevi.
Mahatma Gandhi Tribute
In the end-credits, there is a tribute paid to all the freedom fighters of our country from Jawaharlal Nehru to Bal Gangadhar Tilak, that starts with footage of Mahatma Gandhi. It would have been nice nod, but if you look back at the movie and remember all the bloodshed that it wantonly shows, then it stands for everything that Mahatma Gandhi stood against.