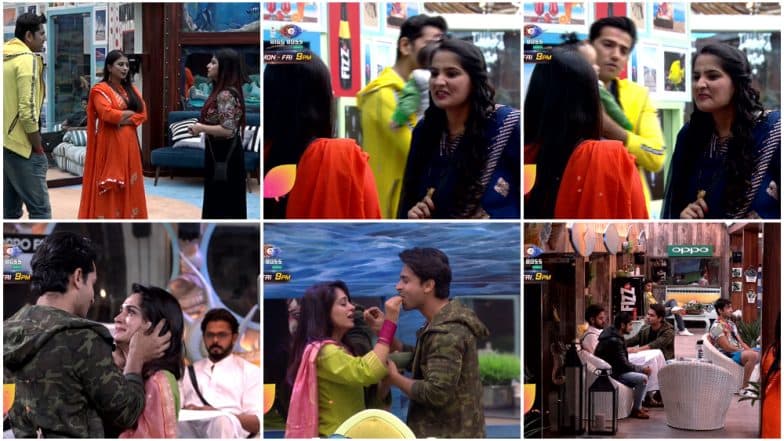 Tonight's episode of Bigg Boss 12 will see the Family Task continue. Yesterday's episode saw KV and Sreesanth's families, Deepak's Father, Rohit's Mother and Surbhi's Brother enter the house. And while every other housemates' families were extremely emotional and wished others good-luck, Sree's wife gave everyone some advice and her opinion of their game (not that we blame Bhuvneshwari Sreesanth for expressing herself). The lady blasted Surbhi and gave her a reality-check, post which Surbhi was in tears. Bigg Boss 12, 9th December 2018 Episode Written Updates: Karanvir Bohra and Sreesanth's Kids Enter the House
And tonight's episode of the show will see the remaining housemates get visits from their families. Romil's wife will be entering the house with their son, Somi's sister and ex-contestant Saba Khan will walk in and Dipika's husband will also enter the house. Bigg Boss 12, 8th December 2018 Episode Written Updates: Sreesanth, Dipika Kakar And Romil Chaudhary Decide To Fight Together
However, Romil's wife and Saba's entries ruffled some feathers in the house.
After meeting one and all, Saba told Romil and Somi that their 'bond' in the house was being questioned outside. On the other hand, Romil's wife entered the house and after the initial meeting with her husband, the trio proceeded towards Somi. But when Romil introduced Somi to his wife, she very subtly took a dig at Somi and asked her- 'pakka Choti behen hai naa?' and then went on to tell her – 'Hassi Mazaak mein bolun toh Deepak bohot acha ladka hai'. However, the lady's face showed us otherwise. It is also being said that she bashed Surbhi Rana for her statements against her husband and her allegations of 'staring' at the women in the house.
Moving on to Shoaib's visit, it definitely was one of the sweetest moments in the house. After meeting, Shoaib and Dipika indulged in some 'shaayari' and the lady even fed him some of her cooked food. Shoaib met everyone and only had good things to say. He even went on to proclaim Sreesanth as his 'saale sahab' (brother-in-law). Soon enough, it was time for the duo to part ways and Shoaib left his jacket with Dipika.
The family task definitely saw some fractured bonds in the house begin to re-form again. But what do you think will be the outcome of the Family task? We saw some housemates apologise to the other and try to make amends. How long will these amended relationships last?