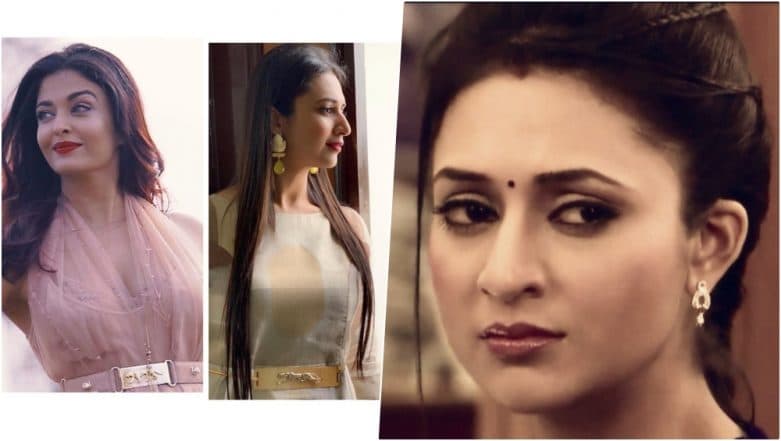 Diet Sabya, an anonymous Instagram account is known to ruffle celebrities' feathers if they happen to wear rip-off designs. And Unless you've been living under a rock, you're probably aware that their latest target is television actress, Divyanka Tripathi Dahiya. The 33-year-old Yeh Hai Mohabbatein actress was called out by Diet Sabya on Sunday for wearing a rip-off of Sabyasachi Mukherjee's iconic 'Bengal Tiger Motif' belt. Twenty-four hours later, the actress has come back with a fiery response to plagiarism allegations. Divyanka Tripathi Called Out by Diet Sabya Over Sabyasachi's Signature Tiger Motif Belt Copy! See Picture.
Divyanka who loves dressing up and posting it on Instagram as any influencer found herself in a tricky situation courtesy her last OOTD. She had worn a maxi dress by Raisin and cinched her waist with a belt from Rimayu. Now, this accessory got Divyanka in the trouble as it turned out to be a rip-off Sabyasachi's trademark belt. While the actress and her stylist Victor Robinson missed out on this 'little' detail, it failed to miss out the watchful eyes of Diet Sabya that has made a mark in the industry by exposing designers who are copying others' works.
Without mincing their words, Diet Sabya pointed out Divyanka's problematic OOTD, "#Guts On A Sunday afternoon!! 🤯...Y'all will often tell us not to blame the celebrity, but you've to live under a giant rock to not know that this is an iconic @sabyasachiofficial belt. NO excuses!! ..#dietsabya #Gandi #copy #lol #🤢." Interestingly, they did it without naming or tagging actress' Insta handle. However, they merged Divyanka's image with Aishwarya Rai Bachchan's photo in which the Bollywood actress is seeing wearing an original Sabyasachi belt.
Diet Sabya Points Out Divyanka Tripathi Wearing Sabyasachi's Rip-Off
Divyanka Tripathi's Reply on Diet Sabya's Post
The post by Diet Sabya went viral in a day, which also resulted in the actress facing the wrath of online trolling. Divyanka also posted a reply to Diet Sabya's post, writing, "My genuine ignorance maybe a big fashion crime for you...but you guys definitely have the guts to be rude to another level. Thanks for pointing out the mistake. No thanks for being inhuman and harsh!" But that is not all as the actress has come out with a very strongly-worded and lengthy note on her Insta handle.
Read Divyanka Tripathi's Lengthy Note Attacking Diet Sabya
That's one hell of a rant! Divyanka has spoken about everything from cyberbullying to fashion shaming. She is accusing Diet Sabya of being rude, inhuman and harsh to her. Would have been great if she also mentioned how plagiarism is a significant area of concern in the fashion industry and in general. Sabyasachi is a huge fashion designer, and it would not affect him if people copied his designs but just imagine a budding fashion designer being robbed off their work by rip-off artists. Horrible, isn't it? Firstly, it's wrong to copy. Secondly, it is worse to defend the act. For not keep watching this space to get the latest updates on Divyanka vs Diet Sabya!