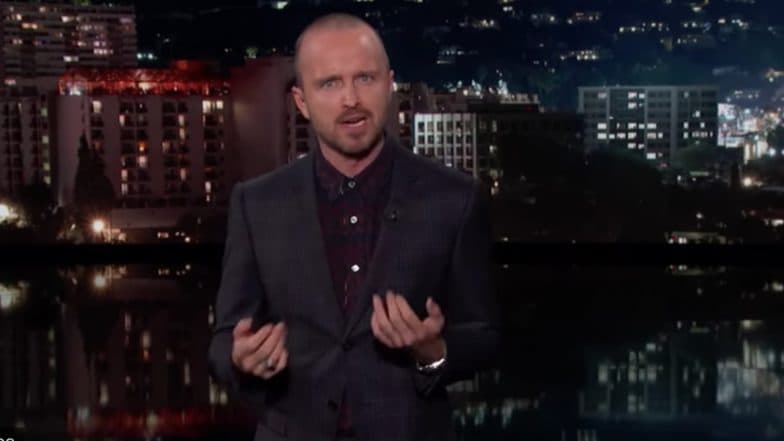 El Camino: A Breaking Bad Movie is just around the corner and we bet you are super-excited for its release. For those who have followed the show through the years, the film has been highly anticipated. Aaron Paul's Jesse Pinkman has been an incredible character in the series and the film is about to show one of hell of a journey of Pinkman. Actor Aaron Paul has been promoting the film everywhere and recently appeared on the Jimmy Kimmel Show.  El Camino - A Breaking Bad Movie New Trailer: Jesse Pinkman's Bitchin' Return Will Get You High on Nostalgia and Excitement (Watch Video).
Paul stunned everyone on the show as he gave a two and a half minute monologue on the Breaking Bad recap and literally took us through the show's five seasons. The actor left out key details and resorted to naming the classic moments so as to not spoil the show for those who have never seen the series.
Check Out Aaron Paul's Monologue Here:
.@AaronPaul_8 recaps every moment of @BreakingBad in 2 ½ minutes! #ElCamino pic.twitter.com/1i3sq62sSl

— Jimmy Kimmel (@jimmykimmel) October 10, 2019
El Camino picks up after the events of the Breaking Bad finale, with Jesse on the run after escaping from the clan of Nazis that imprisoned him for most of season five. The movie is expected to be quite dark and things are about to get worse than we expected.  El Camino: A Breaking Bad Movie: Jesse Pinkman's Tragic Backstory Gets a Soothing Touch in Chloe X Halle's Enchanted (Watch Video).
Jesse's fate will soon unfold with El Camino: A Breaking Bad Movie as it releases on Netflix and in some theatres on October 11.