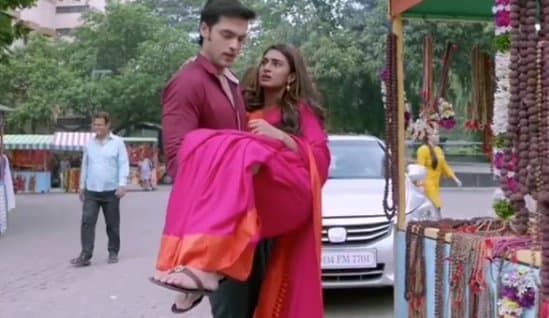 In the last episode of Kasautii Zindagii Kay 2, Prerna stays with Anurag who is hospitalized and refuses to leave him till he regains. Prerna is overjoyed when the doctor informs her that Anurag could regain his memory. In tonight's episode, we see Anurag (Parth Samthaan) asks Prerna (Erica Fernandes) that when they were dancing together they were very close and he felt that they were not just friends. Suddenly Nivedita comes and changes the topic and takes Anurag with her to have breakfast. Kasautii Zindagii Kay 2 January 9, 2020 Written Update Full Episode: Anurag Feels Uncomfortable Seeing Prerna Dance With Viraj And Surprises Everyone With His Actions.
On the breakfast table, Mohini gets emotional seeing Anurag and hugs him as he got well and returned back from the hospital. Prerna also joins them for breakfast.  Moloy tells Nivedita to send the invites for the New year party. Moloy tells Prerna to get her family for the party. Mohini intervenes and tells she should even get Viraj for the party as he is also her family now.
In the Sharma house, Shivani tells Prerna that she should not have a fight with Sonalika as she will be wild now and can do anything to harm Prerna. Prerna tells Shivani that she should not worry and that she is prepared to face Sonalika(Aamna Sharif).
Meanwhile, Sonalika thinks she has to do something in the party as Prerna will try her best so that Anurag remembers his past. Sonalika tells Ronit to kill Prerna.  Ronit asks if Anurag gets his memory back when he sees Prerna's life in danger then what will they do?. Ronit suggests that they should not kill Prerna in the party. Ronit tells he will get his goons who will kidnap Prerna and then they will kill her.
The New Year party starts in the Basu house.  Anupam goes to Nivedita and tells her she is looking beautiful. Prerna comes with her family to the party. Mohini asks  Prerna where is Viraj. Prerna tells her he is on the way and will reach soon. Kasautii Zindagii Kay 2 January 8, 2020 Written Update Full Episode: Sonalika Makes A Shocking Revelation About Anurag's Memory Loss, He Remembers Holding Prerna's Hand.
Anurag comes in Mohini's room to take her to the party. Meanwhile, Prerna's blouse button opens, she goes to Mohini's room to fix it and does not notice Anurag who is inside in the washroom. As Prerna tries to fix the blouse, Anurag comes and asks does she need any help. Anurag sees that  Prerna's blouse button has come out and tells her that he can fix it as he is good at it. Suddenly he gets vivid flashbacks of his past, he says that he has said it before also. Just then Sonalika and Mohini come into the room. Mohini tells Prerna that Veena is calling her down. Anurag tells he wants to talk to Prerna about something important but Mohini tells that all are waiting down and they should go.
Mohini tells Sonalika that Anurag and Prerna had shared a special bond with each other. Mohini tells if Anurag asks her anything she should ignore it. Sonalika acts as if she does not know anything. In the party, Viraj comes and brings flowers for Prerna and tells her that he wants to talk with her. Anurag sees Viraj giving flowers to Prerna and gets jealous. Viraj thinks he should tell Prerna that he cannot marry her but seeing her beauty he changes his mind. Viraj tells Prerna that her smile is very attractive, Prerna tells Anurag also feels the same way. Meanwhile, Ronit disguises and comes to the New year party. In the precap, Ronit comes with his goons to kidnap Prerna.