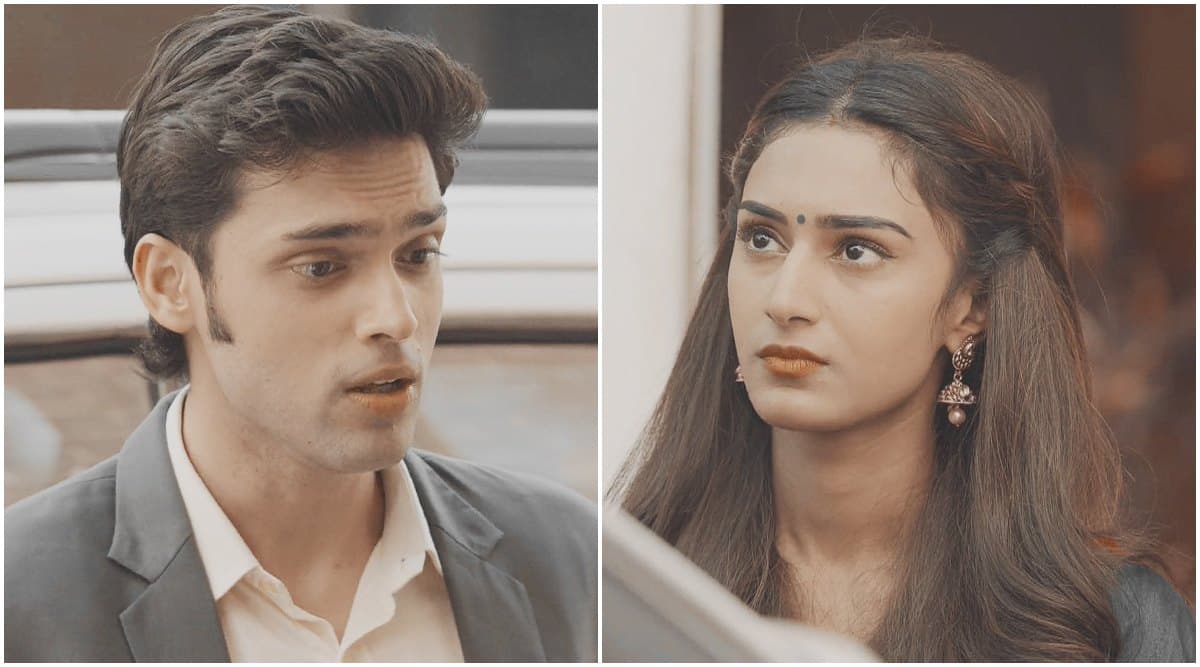 In yesterday's episode of Kasautii Zindagii Kay 2, Prerna challenges Sonalika that Anurag will regain his memory and decide who he wants in his life. Sonalika gets worried about getting trapped in her own plan. In tonight's episode we see Sonalika (Aamna Sharif) shows a veil to Anurag (Parth Samthaan) and asks whether he liked it. Anurag tells it is beautiful. Sonalika tells that she took this veil from the temple to give it to Prerna (Erica Fernandes) so that she gets blessings from God. Kasautii Zindagii Kay 2 January 7, 2020 Written Update Full Episode: Sonalika Sees Anurag Coming Out of Prerna's Room and Gets Disturbed
Meanwhile, Shivani sees Prerna crying and asks for the reason. Prerna tells that when she sees Anurag she can feel that he loves her and wants to express his love but is unable. Veena comes and tells Prerna and Shivani to come down. Shivani goes with Veena. Sonalika comes to Prerna and tells her that she brought a veil for her as a blessing from God. Sonalika tells Prerna that this is the same veil that Anurag had in his hand on the day when he met with an accident. Sonalika tells she took a risk by showing Anurag the veil to see if he remembers anything from his past but he could not recall anything. Sonalika tells her she also spoke with Anurag's doctor who told her that Anurag's memory cannot be regained again. Prerna tells Sonalika that she will try her best to get her love back. Prerna tells that she will be always around Anurag and tells Sonalika that she can do anything she wants to do.
Mohini gets furious as she is not able to continue acting anymore that she is happy with this marriage and goes to her room. Prerna comes down with the veil and searches for Anurag. Veena tells Prerna to come and makes her sit with Viraj to perform the rituals of the tilak function. Veena puts the veil on Prerna's forehead and starts the rituals. Anurag comes and watches Prerna and Viraj as the rituals begin. Anurag gets vivid flashbacks of his past and gets restless and goes to his room. Anurag wonders why is he feeling that there was something between him and Prerna. Kasautii Zindagii Kay 2 January 6, 2020 Written Update Full Episode: Sonalika Taunts Prerna As Anurag Invites the Sharma Family to the Basu Mansion
Moloy asks Prerna does she want something. Prerna says Anurag and everyone is shocked to hear it. Prerna tells she meant as he has organized everything he should be with them. Sonalika tells that she will go and get him. Anurag is getting restless as why he does not want Prerna to get married to Viraj. At first, Anurag thinks he should talk with Sonalika about his feelings but seeing Sonalika in anger he changes his mind. Anurag thinks he should talk to Prerna about this. To make Prerna realize that Anurag is no longer her husband Veena tells Anurag to give the shagun coin to Viraj and bless the couple.
In the precap, Anupam tells Anurag that he is getting feelings for Prerna. Anurag and Prerna dance together in the tilak function.