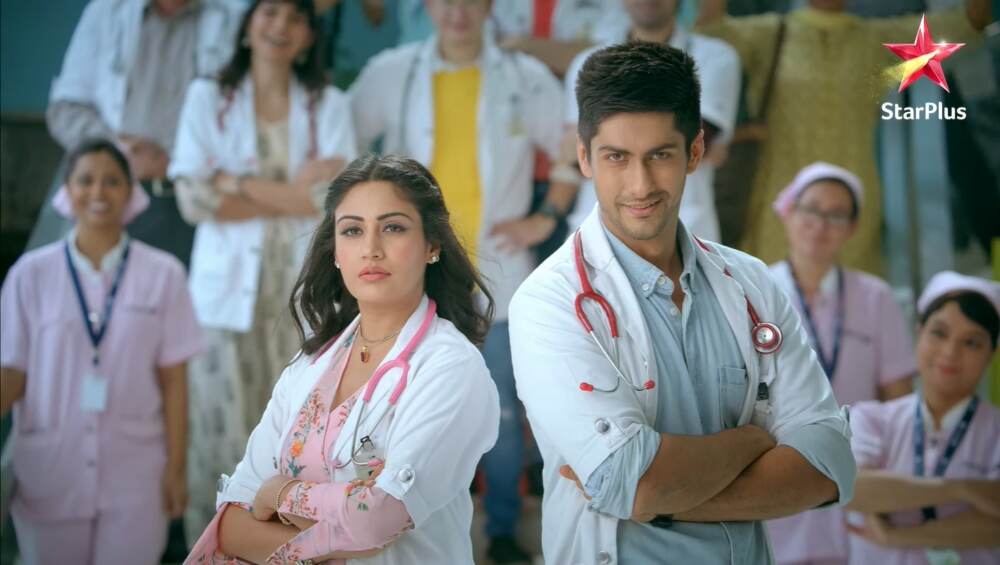 In yesterday's episode of Sanjivani 2, we saw Sid and Ishani share a tender moment as he feeds her, while she daydreams romantically about him. Later they are taken aback by a patient's sudden remark. Tonight's episode starts with the nurse telling Sid and Ishani that fights like these only happen between couples and laughs. She also tells Ishani to get married to Sid. An embarrassing Ishani (Surbhi Chandna) asks her not to talk silly things and distract her. Later, the nurse tells Sid (Namit Khanna) that her daughter is in much pain but is acting brave. Sid says they will get her tests done and then cure her. Ishani asks him if he spoke to Shashank(Mohnish Bahl). Sid says no need and they will manage everything. Sid and Ishani go out,  Sid asks shall they get married, Ishani feels shy and goes from there. Sanjivani 2 September 30, 2019 Written Update Full Episode: Sid Feeds Ishaani, Who Has Romantic Daydreams About Him
On the other hand, Shashank comes to Juhi (Gurdeep Kohli) and says that tumour should be removed as it can be dangerous if it grows. Juhi says she doesn't think so and that as the patient is 90 years old, she can't bear the surgery and says he does not trust her decisions. Shashank tells Juhi that she should think before trusting Vardhan as he is not a trustworthy person, Juhi says he made her like this. Juhi says she is going with Vardhan to see the machines and tells him to trust her, as he made her the chief of surgery. Juhi taunts him if he saw her talent or was there any personal reason and leaves.
Meanwhile, Ishani requests Asha to manage Jessica's case. Asha asks her not to worry and tells her to do one yoga pose so that she can calm herself. Later, when Sid asks did she get the blood sample reports. Asha says yes, it will come in some time. He asks why is she saying this. He sees Asha in O.T and asks where is Ishani. Sid gets enraged when he does not see Ishani anywhere and ask Asha where is she.
Anjali comes to meet Vardhan and tells him that he is very secretive, as he got that girl treated and where did he hide her? Vardhan says he likes this quality, she takes care of everyone and him also. He gives her a letter and says it's her salary. Anjali sees it and tells it is too much, Vardhan says much then Shashank as he values talent and that she deserves it. Vardhan tells her that he has given a discharge to the girl, her dad had come to take her. Sanjivani 2 September 25, 2019 Written Update Full Episode: Dr Ishaani Develops Feelings for Dr Sid
Meanwhile, Sid goes and sees Ishani doing yoga and smiles. She sees him and falls in his arms. He holds her and says that he won't let her run again, she started wasting time and being lazy, its result of nepotism, Shashank is your family friend, is this more necessary than her patients. She gets emotional and cries. Later, Sid says he was explaining Ishani and she cried and tells her that she is running from responsibilities and ignoring him. Rahil asks for what he was angry and says they both are strange. Rahil asks Sid did he shout at her and tells her to apologize for his behaviour. Meanwhile, Asha also tells Ishani that she should do her work and not run away and apologize to Sid. Later both Ishani and Sid think they cannot fall in love.
In the precap, Sid says he is not thinking of Ishani and Asha asks him to prove it. Sid calls a girl for a date. She holds his hand. Ishani looks on and cries.