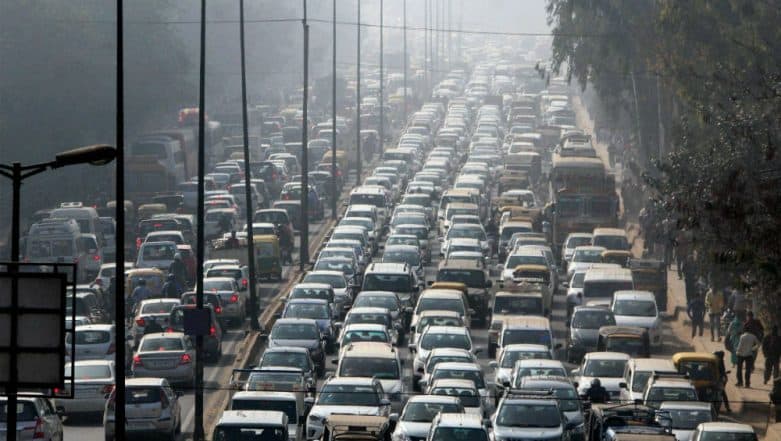 Mumbai, May 8: After much delay, the work of Mumbra bypass finally started from Monday. Due to the ongoing construction work, commuters witnessed a massive traffic jam on Tuesday morning,  making a beeline of cars and motorbikes on the Mumbai's 'Eastern Express Highway. In wake of the repair work, other alternative routes were also suggested by Thane traffic department. It must be noted that the repair work will go on for next two months and is likely to be over by July. Therefore, all heavy vehicles have routed through the internal roads of the Thane city.
The bypass is one of the major routes especially for heavy vehicles going towards JNPT, Ahmedabad, Gujarat, Nashik and Bhiwandi. The traffic department has issued several diversions for this time period. Also, to control the traffic menace, it has decided to allow only 20 percent of the vehicles to ply on this road, the rest will be stopped at the Palghar terminal by using the control system. The terminal can park around 1,700 trucks or tempos at one time.
The Thane traffic department officials in their official statement stated,"The drivers will be alerted about the various routes through pamphlets. Also, tokens will be given, which they have to follow as per the tokens routes, allocated."
Besides, there will be over 300 home guards and wardens who would help to manage the traffic flow. The heavy vehicles which will be going to and fro from JNPT to Ahmedabad will be allowed to the take the internal city roads during from 12 pm to 4 pm," added the officer.
Along with bypass maintenance work, the Mumbra road over bridge (ROB) which goes above the railway line is in a dangerous condition and to be repaired along with the bypass repair work. The Public Work Department (PWD) department will be installing bearings and doing distressing on the Mumbra ROB as only the upper part of the bridge is affected and the pillars as intact. Also, as the bypass has sharp turns due to which there have been many accidents in the past, a compound wall will be built to avoid fatal accidents.