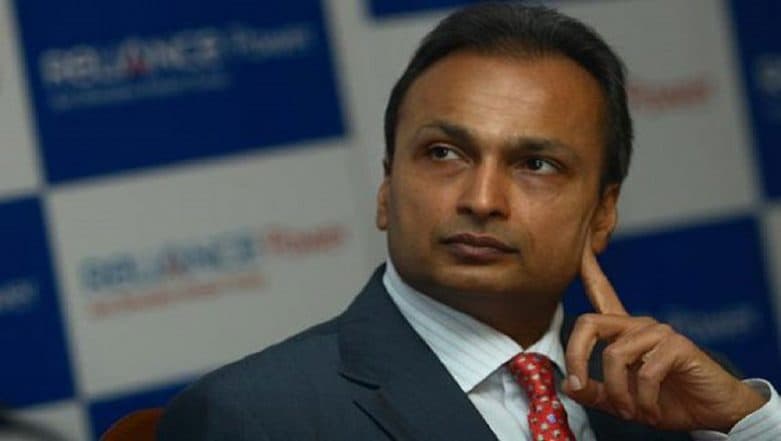 Mumbai, February 4: After Anil Ambani announced in a regulatory filing on Friday that it would be opting for bankruptcy in the National Company Law Tribunal (NCLT), the share of the Reliance Communication dropped by 48 percent in Monday morning trade. The share of the company dropped to an all-time low of Rs 6.  The stock was trading at Rs 7.75 per share on the Bombay Stock Exchange (BSE) at the time of the market close. With this, it is now down by 46 percent in the year so far.
According to Reuters report, more than 120 million shares of RCom changed hands in less than 45 minutes of trade compared to its 30-day average of 63 million shares. Shares of other groups owned by Ambani were also plunged today. the shares of Reliance Power dipped by 29.22 percent, followed by Reliance Capital which was slashed by 19.37 percent. Similarly, the share value of Reliance Infrastructure dropped by 16.51 percent and of Reliance Naval and Engineering by 13.7 percent on the BSE, reported Business Today.
The Anil Ambani-led telecom firm, RCom on Friday decided to opt for insolvency proceedings following its failure to sell assets for paying back its lenders. The decision was taken after RCom failed to sell spectrum to Mukesh Ambani's Reliance Jio, a deal that was expected to bring some relief to the cash-strapped company. "RCom board of directors decides upon implementation of debt resolution plans through NCLT framework," the company said in a statement. Anil Ambani Resigns as Director of Reliance Naval and Engineering.
Swedish telecom gear maker Ericsson had filed the first petition before National Company Law Tribunal (NCLT) to invoke insolvency proceedings against RCom. The NCLT on the request of RCom had granted it time to clear dues to avoid insolvency proceedings. It is estimated that RCom has been reeling under debt of over Rs 46,000 crore. Anil Ambani-owned Reliance Entertainment Appoints Shibasish Sarkar As Group CEO – Content, Digital, Gaming.
The company had chalked out plans to sell assets for about Rs 25,000 crore and use it for clearing debt of around 40 lenders. RCom was expecting to realise Rs 975 crore from sale of spectrum to Jio which it promised to use paying dues of Rs 550 crore to Ericsson and Rs 230 crore to settle dues of minority stakeholder Reliance Infratel. However, Reliance Jio declined to take over any past liability of RCom for which the Department of Telecom may raise demand in future.
(With inputs from PTI)