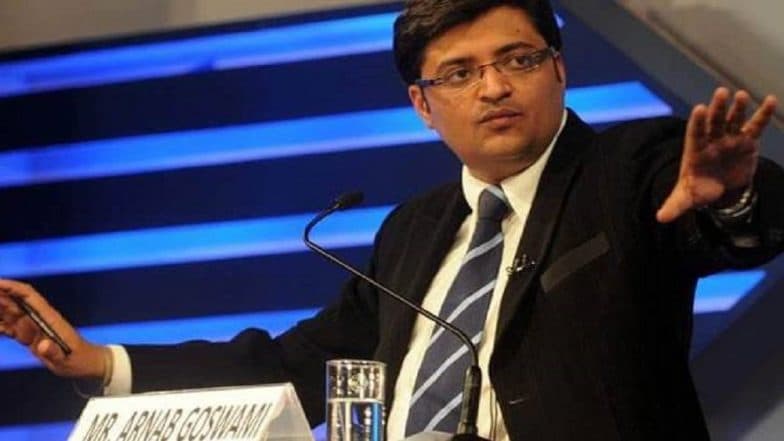 New Delhi, February 11: Arnab Goswami, Republic TV Group Editor, has issued his statement on a Delhi court's order that instructed registration of an FIR against news channel Republic TV and Goswami on a complaint of Congress leader Shashi Tharoor alleging "theft of confidential documents pertaining to the probe into his wife Sunanda Pushkar's death." Arnab Goswami May Face Defamation Suit For Calling Kolkata Police Chief 'Absconding', Republic TV Editor Refuses to Be Intimidated.
Metropolitan Magistrate Dharmender Singh, in his January 21 order that was uploaded Friday, directed the SHO concerned to lodge the FIR and investigate the matter which required probe as it is not clear that how the material came in the possession of the accused persons. Arnab Goswami Among 4 New Members Appointed to Nehru Memorial Museum Society, 3 Dissenters Sacked.
Goswami in his statement defended the channel's right of obtaining documents on the grounds of investigative journalism and said that he will fight the matter in the courts. "Accessing documents to reveal the truth is integral to journalism. I am proud that we have done so and that because of our investigative journalism, the Sunanda Pushkar case is under scrutiny."
Read Arnab Goswami's Full Statement on the FIR Below:
READ: Arnab Goswami's statement on the FIR pic.twitter.com/fhHvYcnwIf

— Republic (@republic) February 11, 2019
Senior advocate Vikas Pahwa, appearing for Tharoor, had told the court that during the investigation of the death case, police collected a number of items or materials of the deceased and recorded statement of complainant and one of his aides Narain Singh.
All those documents and materials were part of confidential record and within the sole possession of the investigation team.
It added that the accused persons "in an attempt to increase the viewership of their news channel deliberately made malicious and defamatory remarks against complainant". The court noted that Tharoor has already started legal action against the news channel and Goswami before the Delhi High Court for alleged defamatory accusation.
Goswami has also been in the eye of storm revolving around Kolkata Police Commissioner Rajeev Kumar. Kolkata Police has threatened Republic TV Group Editor Arnab Goswami with a defamation suit for airing a story that its Commissioner Rajeev Kumar was "absconding", contending that it was done to "malign" him and the organisation. Goswami has refused to be intimidated by the "machinery" of Mamata Banerjee government and expressed readiness "to take them on". (With Agency Inputs)