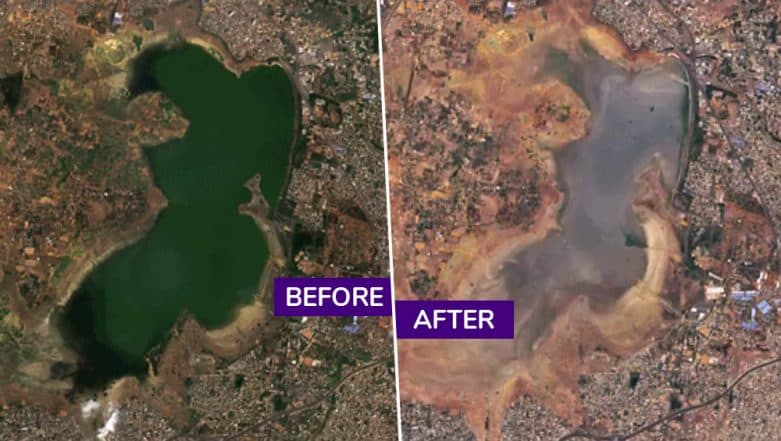 Chennai city in Tamil Nadu is currently reeling under a severe water crisis, which has forced schools and businesses to remain closed. Day zero has arrived in the capital city with all the water drying up. About 10 million have been affected as the reservoirs have been emptied. Satellite images were released recently, which clearly show the drying up of lakes in the sixth largest city of India. People now eagerly and desperately waiting for the monsoons which may revive the condition. But Chennai is not the only city facing Day zero situation; there are other metropolitan cities in line! Water crisis also looms large in other Southern states. Tamil Nadu Water Crisis: Chennai Residents Struggle With Irregular Water Supply Through Tankers, State Govt Seeks Centre's Help.
Day Zero in India was predicted a year ago when Cape Town water crisis came to fore. Bengaluru was predicted to be the first Indian city to reach that point of no water. A recent report of NITI Ayog on groundwater level says 21 Indian cities including Delhi, Bengaluru, Chennai and Hyderabad - will run out of groundwater by 2020. Almost 40 percent of India's population will have no access to drinking water and that is an extremely scary situation. Chembarambakkam Lake and Puzhal reservoir in the city have dried up within a year.
Watch Timelapse Video of Lake Drying up in Chennai:
The timelapse imagery of Chennai's disappearing reservoirs is mind boggling. That's roughly 3 billion cubic feet of water gone in less than a year https://t.co/NcwvYkNrcr pic.twitter.com/hEdu7SXOCC

— Brian L Kahn (@blkahn) June 21, 2019
As per reports in Associated Press, in Chennai, several companies asked their employees to work from home while restaurants also limited their services. Right now the only solution open to them is the monsoon rain. Although it has started raining in the region, there needs to be tremendous rainfall to fill the dried reservoirs. The water crisis in these parched states and the exorbitant rates at which drinking water is being sold, have raised concerns over the need to implement schemes to conserve water and draft action plans to implement rainwater harvesting scheme.
One of the major reasons for this situation is the deficient rainfall last year. Moreover, the heat was too strong this year, drying up the lakes further. The remaining water evaporated leaving the water sources completely dry. The entire situation is a big eye-opener for even parts of the country who need to start acting upon water conservation. While the Southern state already faces the pinch of no water, the tough time will come for other cities across the nation. It is time we act now and act responsibly.