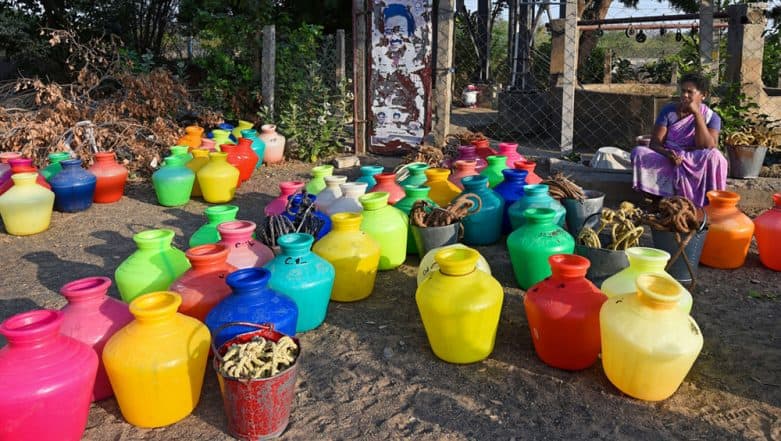 Chennai, June 19: Tamil Nadu and its capital Chennai are reeling under severe water crisis as most of the water reservoirs in the state have reached its lowest level. The state is struggling to fulfill the water demands of its citizens for the past several months after Chennai's Porur Lake, which is considered one of the main sources of water, has reached its lowest level. Rising temperature has also added to the woes of people across the state.  With mercury soaring in the region, there seems to be no respite for the locals, especially in Chennai, which is the worst hit. Water Crisis Deepens in Tamil Nadu, Soaring Temp Adds to Woes.
Locals Allege Water Tankers Not Regular
According to a tweet by ANI, locals in Chennai complained of water crisis in the city, alleging that water supply through tankers is not regular in their area. The locals said, "Water supply has become erratic now, earlier it was regular. We're suffering. This locality doesn't have piped water supply." Meanwhile, locals in Rameswaram said, "There's acute water crisis. We'd never faced such situation earlier. Borewells have failed. Water level in wells are below the average."
Hand-Pumps Installed near Marina Beach
In a bid to help people, locals installed hand- pumps near Marina Beach in Chennai to extract groundwater to manage their daily needs. However, the water, residents say, is of a compromised quality owing to pollutants, thereby forcing them to buy packaged water from shops for consumption.
Chennai Hotels Hit by Acute Water Crisis
Several hotels and restaurants in Chennai faced the brunt of the water crisis in the city as they were unable to conserve water, conveying their inability to offer meals for lunch to their customers. Narayana, manager of the Hotel Ananda, was quoted by ANI saying, "It has been more than three decades that we are running the hotel business and this is for the first time that we are facing severe water issue here. Mumbai Water Crisis: Only 26% Water Left in Dams, City Could Face Further Shortage.
IT Companies Ask Employees to Do Work-From-Home to Reduce Use Water
The Information Technology companies in Tamil Nadu tried to look at ways to tackle one of the worst water crises to have affected the state in many years. The companies asked its employees to work from home to reducing the number of bathrooms in offices. Employees of IT majors said their managements have turned to various ways to handle the situation, even as tankers and alternative sources are quenching the thirst, albeit at a fortune.
Tamil Nadu Seeks 5,000-Crore Aid From Centre For Drinking Water Schemes
On June 11, the Tamil Nadu government requested the Centre for sanctioning over Rs. 5,000 crore for various drinking water supply schemes in the state. The request comes at the time when the state is facing an acute water shortage, especially the capital city of Chennai.
Madras HC Seeks Report from State Govt Over Water Crisis in Chennai
Earlier this month, the Madras High Court had asked the Tamil Nadu government to list measures it has taken to ensure water availability in the state capital. The Court came down heavily on the ruling AIADMK government and questioned the state government on the status of desalination plants that were constructed along the East Coast Road and other places.
Tamil Nadu government Tuesday said it was largely dependent on ground water to meet the requirements till the onset of north east monsoon in October.  Tamil Nadu Chief Minister K Palaniswami said drought and deficient monsoon had resulted in depletion of groundwater levels, but claimed the issue was not as big as was being made out, especially in the media. 2019 is believed to be of the worst years for Tamil Nadu as Chennai and its neighbourhoods have been witnessing an extended summer after a deficient northeast monsoon in 2018, leading to depleted groundwater levels.