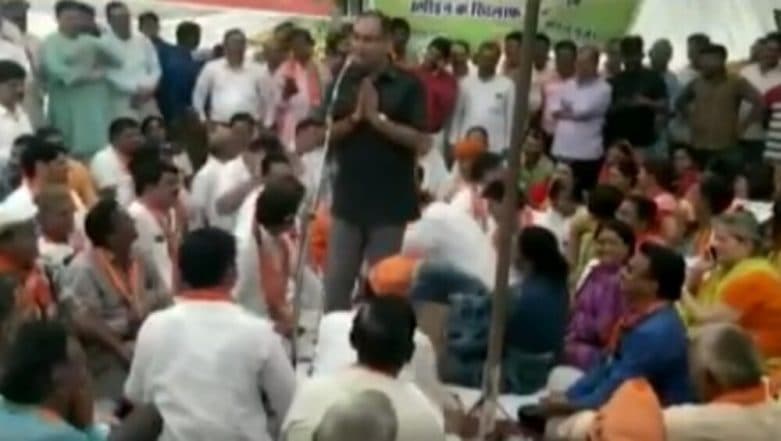 Jaipur, August 25: A Bharatiya Janata Party MLA (Member of Legislative Assembly) from Rajasthan on Saturday made an offensive comment against a BJP woman leader during the protest against the law and order situation in the state. BJP MLA from Sanganer, Ashok Lahoty made the offensive comment while addressing a gathering in Jaipur. Azam Khan's 'Aankhon Mein Aankhein' Sexist Comment on BJP MP Rama Devi Creates Uproar in Lok Sabha, SP MP Walks Out.
In the clip, which is going viral on social media, Lahoty can be seen targeting Suman Sharma. He said that under which sections do she should be booked since "Suman Ji was pulling my pants from behind."
The leader not only targeted Suman but also former Rajasthan Health Minister Kali Charan Saraf. "Suman Ji, you are pulling my pants from behind. What section should I put on you other than 354? Kali Charan Ji used to pull your aanchal. You will not put anything. What shall I put?" Lahoty said.
BJP MLA makes the obscene remark:
Suman Sharma के लिए ये क्या बोल गए BJP विधायक Ashok lahoty#FINVideo #RajasthanOnFirstIndia @AshokLahotyBJP @SumanSharmaBJP @KalicharanSaraf @VasundharaBJP @AmitShah pic.twitter.com/qsYzxgsH47

— First India News Rajasthan (@1stIndiaNews) August 23, 2019
"Suman Ji is like my elder sister. She has ordered me to sit down. So, I'm immediately taking my place," Sanganer MLA said. Earlier, he held the post of Jaipur Mayor. He also made controversy in November 2017 after mandating national anthem and national song compulsory at the BJP-ruled municipal bodies.