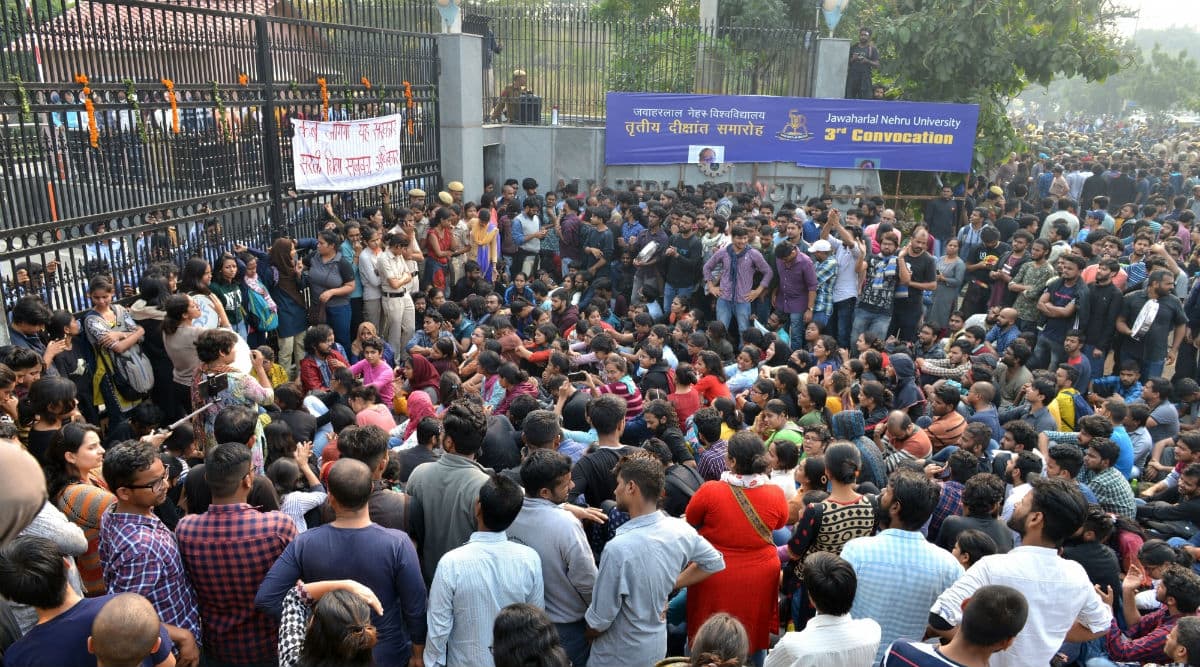 New Delhi, November 19: The protest by students in Delhi's Jawaharlal Nehru University continued unabated today, on Tuesday as well. The protest in India's premier educational institution began ever since the administration announced the revised rates which increases the hostel rates and mess charges among other issues. The intense protest gives little sign of ending anytime soon and the students are demanding a complete rollback of the increased fees.
The agitation by JNU students is only one of the protests that have taken place this year. Various student bodies in several universities of India have held protest over the decision of government or against the administration.
From JNU to BHU, Here Are Some of the Protests in Indian Universities This Year
1. Jawaharlal Nehru University
The students have been protesting for over two weeks over recent hostel fee hike. The protesters took out the march around noon today, on Tuesday. The student body has refused to end the agitation until a complete rollback of the increased fees in JNU. The revised charges have made JNU the most expensive Central University in India.
2. Banaras Hindu University
Banaras Hindu University (BHU) students have been protesting against the appointment of Prof Feroz Khan in Sanskrit Department. The protesting students say that the protest is not against the appointment of a Muslim professor but the appointment of a non-Hindu in a subject closely connected with the religion.
3. Jadhavpur University
Students at Jadavpur University (JU) held a protest after the Union Minister Babul Supriyo was invited at an event organized by BJP's student wing, the Akhil Bharatiya Vidyarthi Parishad (ABVP). However, the protest turned violent after the Minister got into an altercation with some arguing students and was mistreated at the campus.
4. Aligarh Muslim University
A group of Kashmiri students had organised a march in Aligarh Muslim University (AMU). They also raised slogans against the security forces and the abrogation of Article 370 in Jammu and Kashmir.
5. Allahabad University
The students in Allahabad University held protests against the student council. They also demanded the re-appointment of student union. The confrontation between students and police had turned violent. Several students and policemen were injured vehicles damaged near the proctor's office in the Central University.