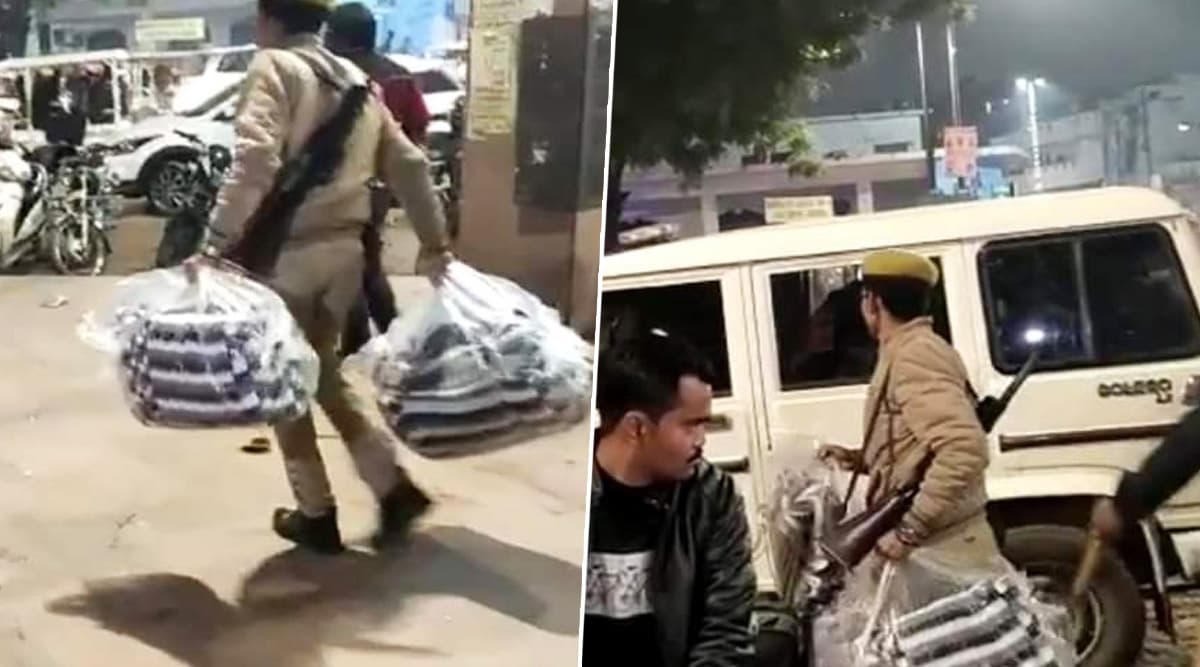 Lucknow, January 19: The Uttar Pradesh police on Sunday issued a clarification over the seizure of blankets and food items to prevent Shaheen Bagh-type protest against the Citizenship Amendment Act in Lucknow. In a statement, police said that the protest was "illegal" and distribution of blankets drew a lot of "non-protesting" crowd which caused chaos. Hence, the protesters were dispersed, said police. Visit Shaheen Bagh, Listen to Concerns on CAA, NRC over Tea: Protesters to PM.
"Police denied permission to place sheets inside Ghanta Ghar park during the illegal protest. Some outfits were distributing blankets. This drove people living neighbouring localities who were not part of the protest to the park. Cops removed sheets and disperse people who were distributing blankets. As per procedure, blankets were seized," police said in a statement. A large group of women attempted to stage Shaheen Bagh-type sit-in near the Clock Tower or Ghanta Ghar. Shaheen Bagh Protesters to Celebrate Kashmiri Pandit Exodus on January 19? Know Truth Behind Viral Twitter Message.
Lucknow Police Statement Over Seizure of Blankets During Anti-CAA Stir:
घंटाघरपार्क में #अवैध_धरना_प्रदर्शन के दौरान

कुछसंगठनों द्वारा कम्बल वितरित कराया जारहा था जिससे आसपास केलोग जो धरनेमें सम्मिलित नहींथे वहभी कम्बललेने आरहे थे #पुलिस द्वारा कम्बल एवम् संगठन के व्यक्तियों को हटवाया गया व विधिक कार्यवाही कीगई |कृपया #अफवाह न फैलाएं @lkopolice pic.twitter.com/ovHoviiAA6

— Vikas Chandra Tripathi (@vctcop) January 19, 2020
According to a report by India Today, the women were protesting in a peaceful manner until the police reached the spot. Cops started dispersing people and seizing food items and blankets from the protesters which led to chaos. In videos shared on social media, cops were seen rushing towards police vans with the confiscated items such as blankets and food. Netizens trolled the UP police for confiscating blankets with #कम्बल_चोर_यूपी_पुलिस on Twitter.
The conduct of UP police with anti-CAA protesters is being criticised by civil society and human rights groups. Over 20 people were killed, mostly by bullet injuries, during anti-CAA agitation in the state. The CAA gives Indian citizenship to members of Hindu, Sikh, Buddhist, Jain, Parsi and Christian communities who have come from Pakistan, Bangladesh and Afghanistan. The law excludes Muslims.