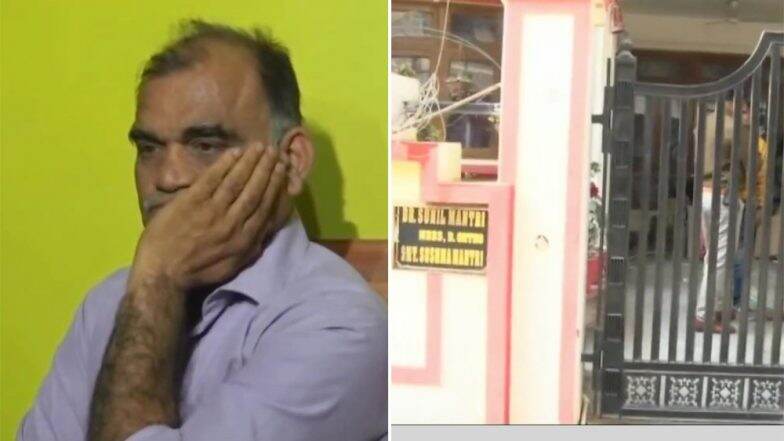 Bhopal, February 6: In a shocking incident, a leading orthopaedic doctor in Madhya Pradesh was arrested on Wednesday for allegedly killing his driver and chopping his body into pieces. Reports informed that the accused, Dr Sunil Mantri, was arrested for killing his 30-year-old driver, chopping his body into dozens of pieces at his residence in Madhya Pradesh's Hoshangabad area. The doctor later immersed the driver's body in acid in a bid to destroy the evidence. According to police, the doctor took this extreme step after the servant objected to doctor's close relationship with his (servant's) wife. Mumbai Murder Suspense: Tiny Body Parts Found in Septic Tank of Posh Virar Building, Police Investigating Case.
Superintendent of Police Arvind Saxena was quoted by PTI saying that Mantri's wife used to run a boutique at their home and, after her death, Pachouri's wife started running it. Saxena informed that the driver suspected Mantri was in an illicit relationship with his wife and so he allowed her to run it.
According to the PTI report, Mantri had first tried to placate Pachouri by hiring him as his driver on a salary of Rs 16,000 per month, but that did not stop him from threatening the doctor to stay away from his wife.
In 2018, a similar incident was reported from Delhi where a 16-year-old Jharkhand girl, employed as a maid in Delhi's Paschim Vihar, was chopped into pieces when she asked for her salary after a year. Reports informed that the minor girl was brought to Delhi from Jharkhand with promises of employment in the national capital. Mumbai Shocker: Borivali Man Slits Mother's Throat Over Financial Tiff, Sits With Dead Body for Over 7 Hours.
In November 2018, a married woman in Odisha allegedly chopped off the genital of a man with whom she had an extra-marital affair at a village in Keonjhar district. The incident occurred in the house of the woman at Badauagaan village. The man, who sustained serious injuries, was rushed to the hospital and was undergoing treatment there.