Mumbai, July 13: "What you sow, so shall you reap," the quotes suits Mumbaikars the best because the recent high tide in the city has thrown up litter -- including plastic and other non-biodegradable waste -- out of the sea. On Thursday, the sea level rose during the high tide, above the Marine Drive promenade and splashed the seawater along with the garbage. But kudos to the BMC workers who brought the marine drive promenade, which was littered, back to its original form within an hour. They cleaned the entire promenade so that people can once again enjoy the scenic beauty of the marine drive-- also known as the Queens' Necklace.
Kiran Dighavkar, the assistant municipal commissioner under whose jurisdiction a few kilometres of the Marine Drive promenade falls, shared the before and after pictures of the promenade. He also appreciated the work done by the BMC cleanup workers. According to the tweet, around 30 labourers waited until the high tide water receded from the promenade to carry out the cleanup work. The tweet also brings the attention of the readers to the give and take process between "human-beings" and "mother earth," and the commissioner called the action between both as "sacred games."
Here is the tweet from the BMC's Assistant Commissioner Kiran Dighavkar:
Sacred games between humans and MotherNature is always ON.

Saying it's yours & No,No it's yours.Have 2appreciate 30labours who wait for the water entering marine drive owing to the #hightide 2 recede & clean the mess within tidy promenade in an hr to enjoy the beautiful sea view pic.twitter.com/StaM0N5Nn2

— KIRAN DIGHAVKAR (@DighavkarKiran) July 12, 2018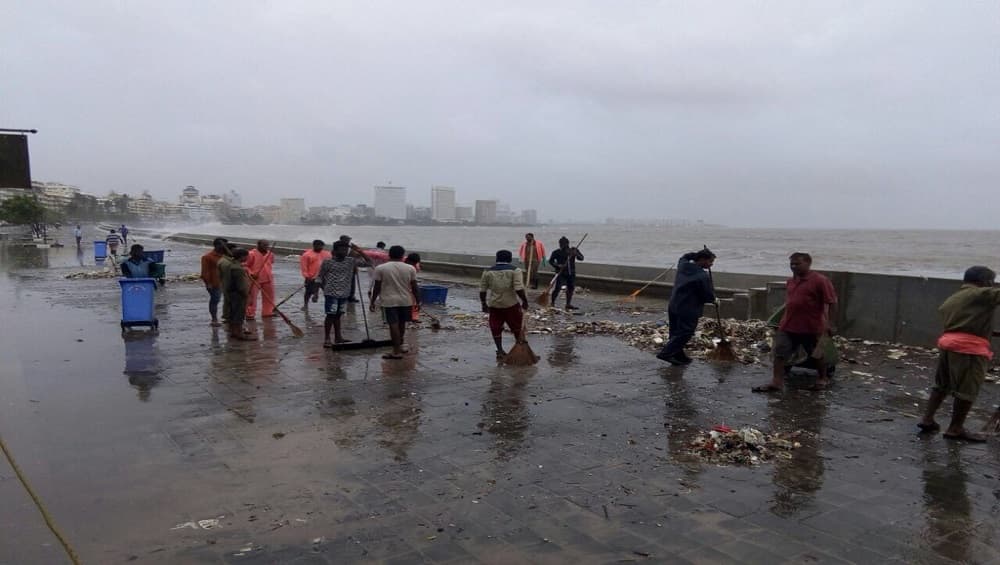 After seeing these pictures, its high time that Mumbaikars contribute towards a greener environment by not using plastic and other non-bio-degradable items. Meanwhile, several netizens also took to the Twitter and shared a few pictures of the littered promenade appealing to people to become more responsible. It has to be noted that Maharashtra government is the first state of India which has implemented a statewide plastic ban to reduce the use of single-use plastic. The ban has been introduced to protect the marine life from the increasing pollution. Moreover, several nature lovers also appreciated the move.
(The above story first appeared on LatestLY on Jul 13, 2018 07:33 PM IST. For more news and updates on politics, world, sports, entertainment and lifestyle, log on to our website latestly.com).