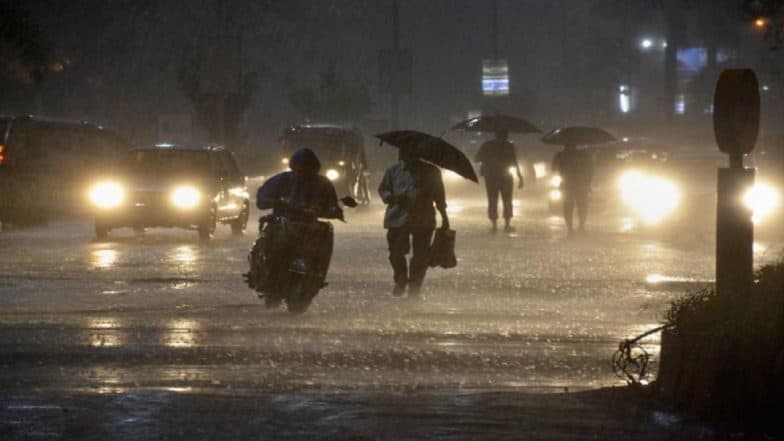 Mumbai, October 12: The India Meteorological Department (IMD) on Saturday predicted thunderstrom accompanied by lighting and mild to heavy rainfall. The IMD also predicted strong winds reaching up to 40 km per hour. Rainfall once again graced Mumbai on Saturday evening including Navi Mumbai as dark clowds hovered over the skies. Lighting and thunderstorms were reported from several parts of Mumbai, Thane and Raigad districts. Mumbai Rains Return: Mumbaikars Shocked With Heavy Rainfall Combined With Gusty Winds in Navi Mumbai, Thane, Kalyan; Electricity Cut Off in Badlapur.
The IMD's statement predicts intense spell of rainfall in Palghar and Thane for the next four hours. The districts have seen no respite from rains despite mid- October approaching. IMD Issues Heavy Rainfall Warning For Marathwada and Vidarbha Regions in Maharashtra.
Read IMD's Statement Below
India Meteorological Department, Mumbai: Thunderstorm accompanied by lightning, gusty winds reaching 40 km/h, & intense spell of rain likely to occur in the districts of Palghar and Thane during the next 4 hours. pic.twitter.com/Prh58ulgRd

— ANI (@ANI) October 12, 2019
Mumbai saw the heaviest downpour in September for the ninth month of the year in several decades, said reports.
The extended Monsoon this year has given Mumbaikars both a reason to rejoice as well as lament. While on the one hand, the city's water woes have been taken care of, on the other sides are worries of traffic and spike in Monsoon related ailments like Dengue, Malaria and other water-borne diseases.