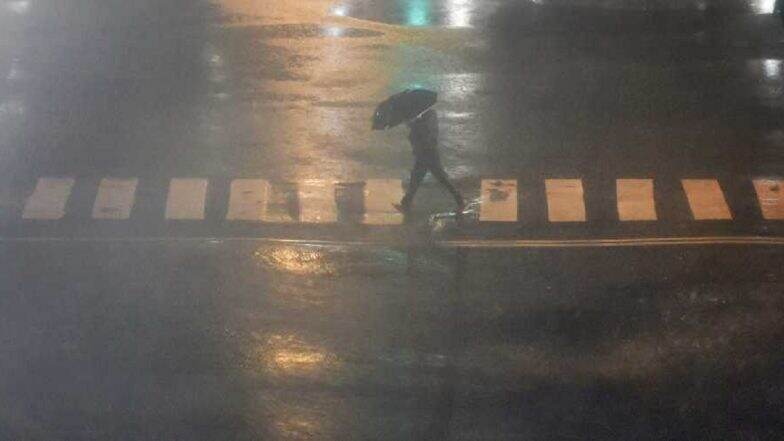 Mumbai, October 8: In the final days of Monsoon, the rain-battered citizens of Mumbai would had not predicted a massive downpour before the season retreats. On Tuesday, when Vijayadashami was being celebrated, the city residents were left shocked after rains returned with a massive fury. Combined with lightning, thunderstorm and gusty winds, heavy to heavy rainfall was witnessed in several parts of Mumbai. IMD Issues Heavy Rainfall Warning For Marathwada and Vidarbha Regions in Maharashtra.
In the suburban region of Badlapur, which witnessed rain-caused deluges in July and September, the late-season rainfall brought back the horrors. Electricity was lost shortly after the rains gained intensity at around 9 pm. Social media users also alleged a cloudburst, claiming that 101mm of rainfall was recorded in barely 21 minutes, with the wind speed being recorded as 83.2km/hr. The figures, as shared on Twitter, could not be verified yet.
'Cloudburst' in Badlapur?
#Cloudburst burst #rains with 451.8mm/hr intensity with gusty winds upto 83.2km/hr lashed #Badlapur city in #Mumbai MMR region of N. #Konkan division in #Maharashtra!

101mm #Rainfall recorded in just 21mins! #Monsoon2019 #weatherupdate #Konkan #BadlapurRains #Thane #MumbaiRains https://t.co/aljXkHvkhw

— Vagaries of the Weather (@VagariesWeather) October 8, 2019
'When Will The Rainy Season be Over?'
Thought the rainy season is over? #MumbaiRains pic.twitter.com/uNqiJpTg85

— Pranav (@PranavHegdeHere) October 8, 2019
High Rainfall in Kalyan, Thane, Navi Mumbai:
Some massive cloud build up on the eastern part of Mumbai. Heavy rains predicted for thane Kalyan , Navi Mumbai, Vikhroli, Wadala Chembur and nearby areas. Rain with wind gusts and lightning #MumbaiRains #MumbaiRain

— Weatherman of Mumbai (@RamzPuj) October 8, 2019
Rainfall Activity to Continue Till Midnight
TSRA in NM, Thane, Kalwa, Badlapur, Dombiwali, Powai, and few other places in Suburbs of Mumbai reported. Lightning too.

Latest RF realised with DWR and satellite images indicate that activity will continue for next 2,3 hrs Mumbai Suburbs, Thane NM pic.twitter.com/gtB8fndAlH

— K S Hosalikar (@Hosalikar_KS) October 8, 2019
The India Meteorological Department (IMD) had issued a thunderstorm alert in Mumbai over the weekend. However, between Friday to Sunday, low amount of rainfall was recorded in some pockets of the city, along with the thunder and lightning.
The weather body had, however, issued a thunderstorm alert in Pune and North Konkan region early this week. The heavy rainfall are considered to the last lapse of the Monsoon, with the season expected to end in all parts of the nation on October 15.