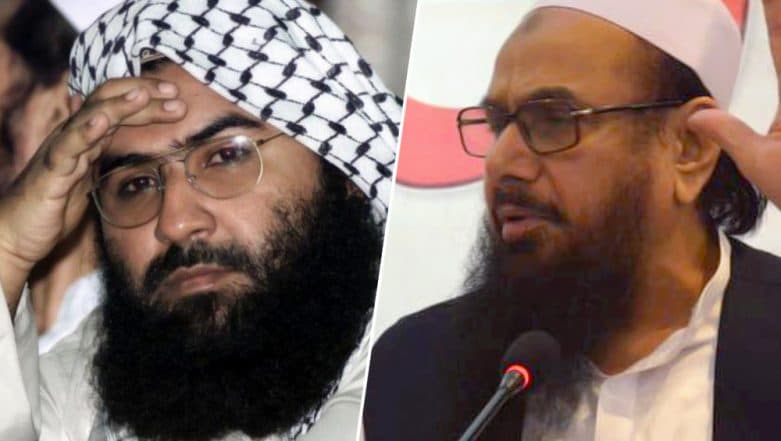 New Delhi, February 20: As international pressure is mounting on Pakistan post-Pulwama attack to act against terror outfits, Islamabad has reportedly asked Jaish-e-Mohammed (JeM) chief Masood Azhar and Lashkar-e-Taiba (LeT) founder Hafiz Saeed to go underground for some days. Masood Azhar's JeM claimed responsibility of the attack on Indian security forces in Jammu and Kashmir's Pulwama where 40 CRPF men were martyred.
According to a report, Masood Azhar and Hafiz Saeed have been asked to lie low by Pakistani authorities. The duo has been directed to avoid public appearances till the international focus shifts from them, Zee Media reported. Pakistan has been singled out on the international level following India's diplomatic efforts to corner Islamabad on the issue of terrorism. 40 CRPF personnel were killed when their convoy was targeted on the Srinagar-Jammu National Highway on February 14. Pulwama Terror Attack: How CRPF Jawans Fell in JeM Trap.
Following the attack, India started the process of isolating Pakistan on the international stage with Foreign Secretary Vijay Gokhale meeting at least two dozen envoys in the national Capital. Finance Minister Arun Jaitley, after a meeting of the Cabinet Committee on Security a day after the strike, said the Ministry of External Affairs would also initiate all diplomatic measures to ensure the global isolation of Pakistan.
Jaitley said that India would press with the international community to ensure the early adoption at the UN of the Comprehensive Convention on International Terrorism (CCIT). India also revoked the 'Most Favoured Nation' or MFN status given to Pakistan for bilateral trade and hiked basic customs duty by 200 per cent. on all goods exported from the neighbouring country.
On Wednesday, Ambassador of France to India Alexandre Ziegler said that his country is "pushing" to put Jaish-e-Mohammad (JeM) chief Masood Azhar on the UN sanctions list. This will be the second time that France will put forth its proposal at the United Nations.