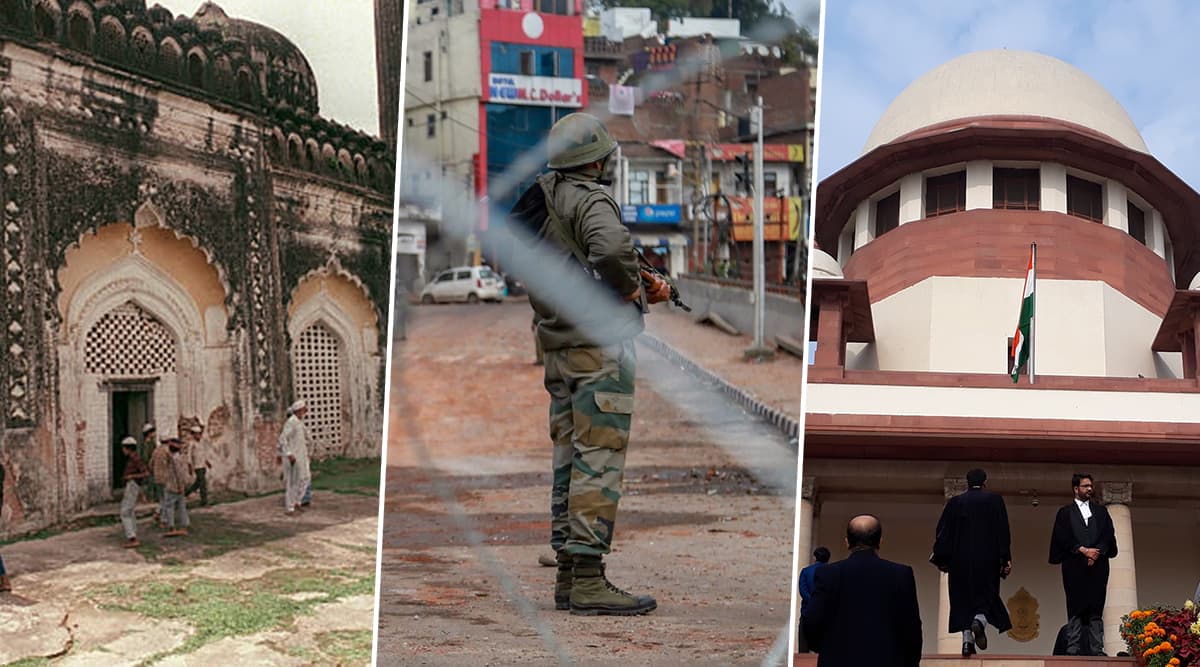 Ayodhya, October 13: In the latest development, Section 144 was imposed in Ayodhya ahead of the hearing in the Ram Janambhoomi-Babri Masjid case in the Supreme Court. Section 144 was imposed in the Ayodhya district till December 10. Ayodhya District Magistrate, Anuj Kumar Jha, said that the decision to impose section 144 was also taken into consideration due to upcoming festivals. Babri Masjid-Ram Janmabhoomi Title Dispute: Mediation Panel Moves Memorandum Before Supreme Court Seeking Resumption of Negotiations.
A five-judge bench headed by Chief Justice of India Ranjan Gogoi on October 4, asked both the parties in the case to finish off their arguments by October 17 instead of October 18, as mentioned earlier. The five-judge bench began day-to-day hearing in the Babri Masjid-Ram Janmbhoomi title dispute case from August 6 after the mediation proceedings initiated to find the amicable resolution to the dispute had failed.
The three-member mediation panel in the Babri Masjid-Ramm Janmabhoomi title dispute case comprised former apex court judge FMI Kalifulla, Art of Living founder Sri Sri Ravi Shankar and senior advocate Sriram Panchu. Till now, 14 appeals have been filed in the apex court against the 2010 Allahabad High Court judgment. Babri Masjid-Ram Janmabhoomi Title Dispute: Muslim Parties Now Deny That Ram Chabutra Was Birthplace of Lord Ram, Says 'Accidentally Accepted'.
According to reports, the CJI is not in favour of allocating even a single day of hearing beyond the date of October 17. If both the parties want, the apex court could conduct an hour of extra hearing per day or hear the proceedings on Saturday as well as leading up to the deadline. Ayodhya Case Hearing Day 2: Supreme Court Asks For Documents to Prove Possession, Nirmohi Akhara Says 'Lost All Records in 1982 Dacoity'.
Earlier this month, the Muslim side told the bench that facts "do not prove" that the disputed site is the birthplace of Lord Ram. The submission comes days after the apex court said it would consider the matter as a case of title suit. However, the Hindu side reiterated its belief that Lord Ram was born at the disputed site. In 2010, the Allahabad High Court had ordered the land to be divided into three equal parts between the Nirmohi Akhara, the Sunni Wakf Board and the representative for the deity Ram.