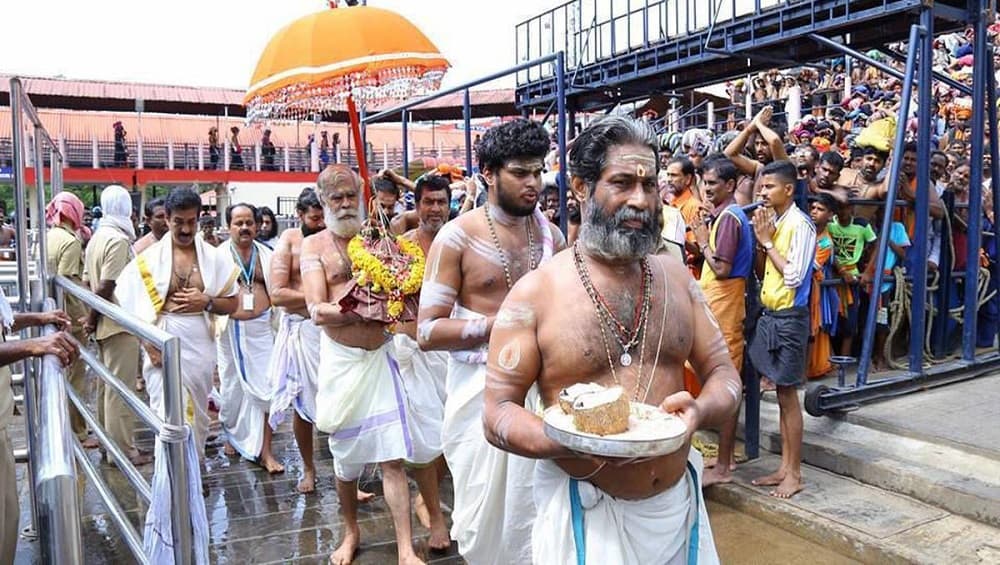 Thrissur, November 16: The Sabarimala temple in Kerala's Pathanamthitta district was opened up for pilgrims on Saturday as the 41-day annual pilgrimage to hilltop shrine of "celibate" Lord Ayyappa has begun. Scores of devotees, most prominently from the neighbouring southern states of Andhra Pradesh, Telangana and Tamil Nadu arrive in Kerala to pay their homage. Ahead of Temple Opening, Police Sends Back 10 Women Devotees of Menstruating Age.
Ahead of the temple opening, the Left Front government in the state rejigged its stand on the issue of women's' entry. Unlike last year, when the state decided to provide police protection to female devotees who register themselves, the government will not be providing any special protection to women this year.
The holy site of Sabarimala should not be considered as a spot for activism or gaining popularity, said Kerala Devaswom Minister Kadakampally Surendran. He further appealed the media to not to interview those activists who intend to whip up the frenzy, or highlight elements who want to derive political mileage from the issue.
The Supreme Court had, in July 2018, issued an order uplifting the ban on women aged between 10-50 from visiting the shrine. The judgment left evoked dissent from scores of pilgrims, as well a section of political establishment, who claimed that the sanctity of the shrine would be violated as the Lord Ayyappa deity in Sabarimala is celibate or "brahmachari".
On Thursday, the Chief Justice of India (CJI) Ranjan Gogoi-led bench decided to assign a larger bench to review the issue of entry of women into the Sabarimala shrine. For now, however, the court categorically ruled out the staying of its erstwhile order which permits the entry of female devotees.
Meanwhile, the administration in Kerala is running around 150 buses to ferry pilgrims from the two base camps in Pamba and Nilakkal to the point from where they trek to the hilltop shrine. Over 800 medical staff deployed, 2,400 toilets and 250 water kiosks have been installed to address the basic needs of the devotees.