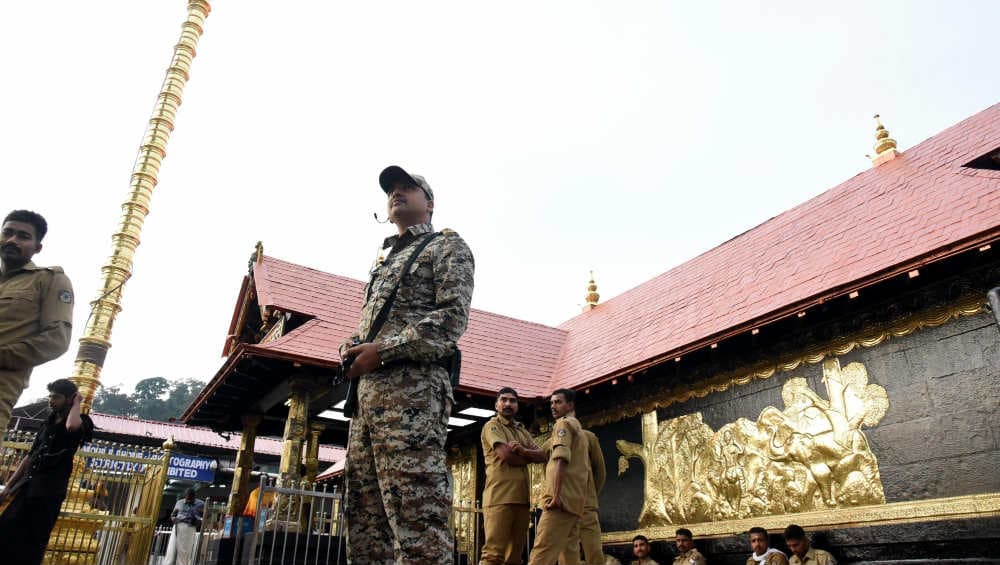 Thrissur, November 16: Ahead of the opening of hilltop Lord Ayyappa shrine in Sabarimala later today, the Kerala Police has reportedly turned away 10 female devotees. According to reports, the women - all of whom were in menstrual age - were asked to return from the base camp in Pamba as the government has decided not to provide any personal police protection to "women activists". Sabarimala Temple Not Place For Activism, Kerala Government Will Not Back Publicity Mongers: State Minister.
The Left Front government in Kerala, which had last year decided to implement the Supreme Court order allowing women to visit the Sabarimala shrine in letter and spirit, has rejigged its stand this year. Unlike last year, the state government would not be offering any special police protection to the female devotees who have registered themselves to visit the Sabarimala temple.
Kerala Devaswom Minister Kadakampally Surendran, while speaking to reporters, said the government does not intend to see Sabarimala - a religious site - to be converted into a place of activism. He also urged the media to not to interview the activists who "want to whip up a frenzy" or give same to those attempting to derive political mileage.
Update by ANI
#SabarimalaTemple: Police has sent back 10 women from Pamba. The women (between the age of 10 to 50) had come from Andhra Pradesh to offer prayers at the temple. The temple is schedule to open today in the evening for the Mandala Pooja festival. #Kerala pic.twitter.com/YM17JC5Ogp

— ANI (@ANI) November 16, 2019
The Travancore Devaswom Board has also sought legal assistance in the row involving Sabarimala, as the Supreme Court on Thursday decided to review its erstwhile verdict allowing womens' entry to a larger bench.
Chief Justice of India (CJI) Ranjan Gogoi had announced that a seven-member bench would decide on the issue of Sabarimala, along with the entry of women into mosques and the continuance of female genital mutilation practice among Dawoodi Bohra Muslims.
The court, however, categorically refused to stay its 2018 order which lifted the ban on women aged between 10 to 50 to enter the Sabarimala shrine Female devotees in the age-group are permitted to visit the temple till the larger bench adjudicates upon the issue.
Notably, the 41-day annual pilgrimage in Sabarimala begins today, with the gates of hilltop shrine scheduled to be thrown open for the devotees at 5 pm. The Pathanamthitta district administration has arranged 2,400 toilets, over 250 water kiosks and deployed more than 800 medical staff to meed the emergencies of the pilgrims.