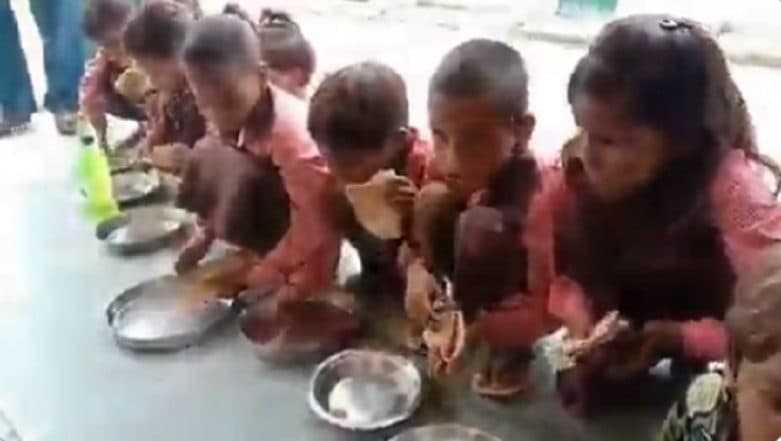 Lucknow, September 2: The UP police has registered an FIR against a local journalist who shot a video of "namak-roti" or salt-chapati being served as midday meal to students in a Mirzapur government school. The accused journalist, identified as Pawan Jaiswal, is charged of manipulating the story to politically benefit one Rajkumar, the representative of a local village pradhan. The duo were booked on Saturday under sections 120-B, 186, 193 and 420 of the Indian Penal Code (IPC). Watch Video of Students Being Served Roti-Namak as Mid-Day Meal in Mirzapur.
The clip shot by Jaiswal, and aired by most broadcast media outlets, created a flutter with several among the Opposition ranks taking potshot at the Yogi Adityanath-led BJP government in Uttar Pradesh. Congress' general secretary of UP East, Priyanka Gandhi Vadra, shared the video on her social media account, asking the ruling BJP to explain the state of "misgovernance".
"This is the reality of BJP-governed Uttar Pradesh. The services provided by the state is degrading with each passing day. The treatment being out to our children is condemnable," she had said.
Watch Video of Children Being Served 'Namak-Roti':
#Mirzapur के एक स्कूल में बच्चों को मिड-डे-मील में नमक रोटी दी जा रही है।

ये उत्तर प्रदेश भाजपा सरकार की व्यवस्था का असल हाल है।

जहाँ सरकारी सुविधाओं की दिन-ब-दिन दुर्गति की जा रही है। बच्चों के साथ हुआ ये व्यवहार बेहद निंदनीय है। pic.twitter.com/FMD5cYE5Jn

— Priyanka Gandhi Vadra (@priyankagandhi) August 23, 2019
Notably, the video was shot on August 22 in a government school located in Hinauta village of eastern Uttar Pradesh's Mirzapur district.
Reacting to the footage, the UP government had assured a department inquiry and action against all those officials found negligent in discharge of their duty. A teacher was reportedly suspended based on the prima facie facts available.