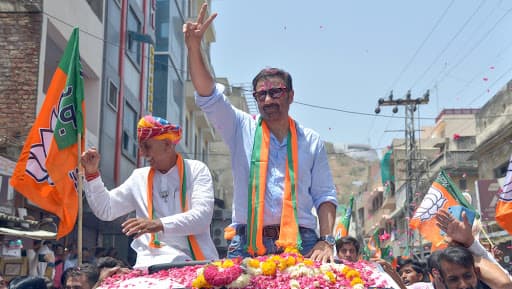 New Delhi, June 19: The first time Member of Parliament (MP) Sunny Deol could be in trouble for overspending during poll campaigning in 2019 Lok Sabha Elections. The Bharatiya Janata Party (BJP) Gurdaspur MP may even lose his seat if the Election Commission of India (EC) takes a strict action. The Election Commission has set a limit of Rs 70 lakh for the election campaign. Sunny Deol, BJP Lawmaker From Gurdaspur, Takes Oath As Lok Sabha MP – Watch Video.
The poll watchdog has received complaints against actor-turned-politician for overshooting the Rs 70 lakh limit and apparently spending Rs 86 lakh for his Lok Sabha debut. According to EC, crossing expenses limit may invite strict action against MPs. The poll body also holds rights to suspend the candidate and declare the runner up as a winner. Esha Deol Wishes Sunny Deol a Hearty Congratulations on His Big Political Win
In general elections, BJP's Sunny Deol contested against one of the tallest Punjab Congress leader Sunil Jakhar and defeated him with a margin of over 80,000 votes in Gurdaspur. The Lok Sabha seat was earlier held by Vinod Khanna, whose demise required the saffron party to look for another leader.
On Tuesday, Deol took oath as a member of 17th Lok Sabha. He received a round of applause from parliamentarians as he walked towards the mic to read his oath. The Gadar actor, dressed in casual, took oath in English.