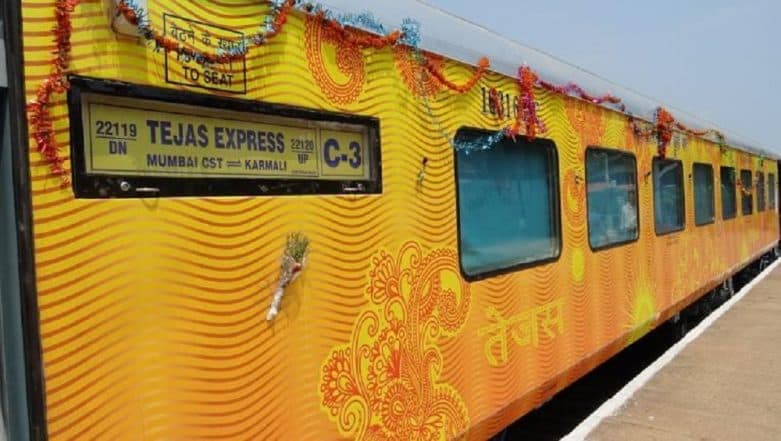 Mumbai, November 17: The Mumbai-Goa Tejas Express has cut down travel time by 15-30 minutes. Last week, multiple trials were conducted at 120 km/hr to enhance the speed of the train. After a series of successful trials, the train finally started running at the upgraded speed on the Roha-Madgaon stretch of Konkan Railway from November 14. Earlier, the train used to run at a speed of 110km/hour. The air-conditioned Tejas express which is operating between Chhatrapati Shivaji Maharaj terminus and Karmali has a potential to run at 160 kmph.
According to reports, railway officials want to observe whether the train can be run slightly late, so that residents of Western suburbs can catch the train without any discomfort. Presently, the train departs at 5 am from CSMT. Meanwhile, if the experiment remains successful, then the railways would replicate the same on other trains, reported Mid-Day. Tejas Express Set to Run With New 'Saffron' Look, CCTVs in Each Coach
The first Tejas express ran on 24 May 2017 from CSMT to Karmali, Goa. It covered 551.7 km in 8 hours and 30 minutes. It is the country's first high-speed semi-luxurious train. Each coach of the Tejas Express is fitted with CCTV installations. LED screens is also be provided for each passenger, with on-demand entertainment facilities. However, the train was vandalised by passengers on its first journey. Some of the passengers tried to remove the LCD screen by pulling on its hinges. The floor of the train was littered with cups, pet bottles, wrappers and bags of chips.