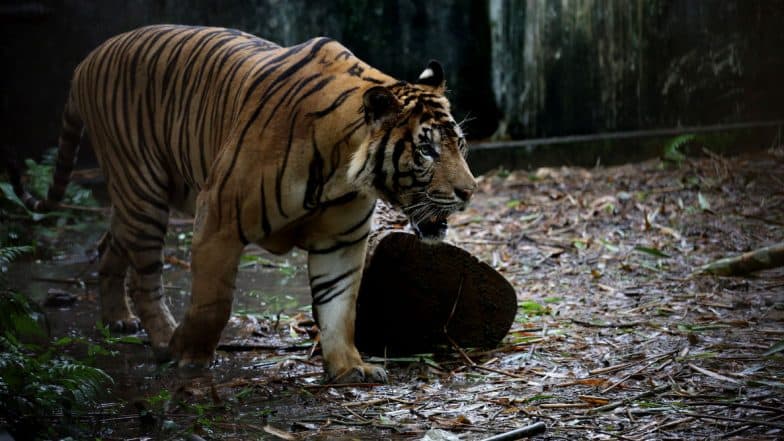 Bengaluru, October 10: A massive operation has been launched to catch a tiger in Bandipur National Park that has killed two people and 14 cattle in the last two months. Panic has gripped locals in living around Bandipur Tiger Reserve in Chamrajnagar district of Karnataka. Once the private hunting ground of the Maharajas of Mysore, the Bandipur National Park is an 874-sq.-km forested reserve situated about 220km southwest of Bengaluru. Tiger Kills Man in Kalagarh Area of Corbett Tiger Reserve in Uttarakhand.
Sharpshooter Shafat Ali Khan had reportedly volunteered to catch the tiger. Khan was recently in the news when his son shot death the tigress Avni in a village in Yavatmal district on November 2. Avni, identified as T1, was held responsible for killing at least 13 humans in the Maharashtra village. However, the Karnataka forest department turned down his offer, adding that they want to tranquillize the big cat and take it to safety. Tiger Kills Woman in Tadoba Reserve.
"Our priority is to tranquilise the tiger as there is no order to shoot. We are not in a hurry to shoot it but to capture it alive," Forest conservator (Bandipur Tiger Reserve), T Balachandra told India Today. A large number of forest officers have camped in Hundipura, Shivapura and Kannigowdanahalli where the tiger was seen roaming. They exuded confidence that by Thursday evening they will catch the tiger using a tranquillizer.
"We are putting more number of track cameras where it was seen. We have increased the number of veterinary doctors and more number of staff to track it," Balachandra said. The search operation is hampered as the forest department faces a shortage of tranquillizers and veterinary doctors. Camera traps have shown the tiger was healthy and prowling around.